Prime Minister Giorgia Meloni's cabinet on Tuesday approved a plan to introduce fines of between 10,000 and 60,000 euros for anyone who damages or defaces monuments or other cultural sites in the country, a move announced after a string of environmental protests targeted some of the country's most famous buildings and artworks.
Italy's culture minister first announced the crackdown after the most recent protest on Saturday, in which activists dumped black liquid into the waters of a monumental fountain sculpted by Bernini at the foot of Rome's Spanish Steps, in what they said was a protest at Italy's continued political support for the use of fossil fuels.
It was the latest in a long series of climate protests in which activists have thrown paint, soup, or flour at, or glued themselves to, notable landmarks or artworks in Italy, in a bid to focus political and public attention on impending climate disaster.
READ ALSO: Italian climate activists face trial for throwing paint at Senate
"Anyone who damages our cultural heritage cannot get away with it and must be severely punished," Culture Minister Gennaro Sangiuliano told reporters on Saturday.
"Those responsible for damages will pay for the necessary work for the restoration of sites, which is often expensive because it requires specialist equipment," he said.
It cost 40,000 euros to clean paint from the facade of Palazzo Madama, the 15th-century building that houses the Italian Senate in Rome, after one recent protest by environmental campaigners, according to Sangiuliano.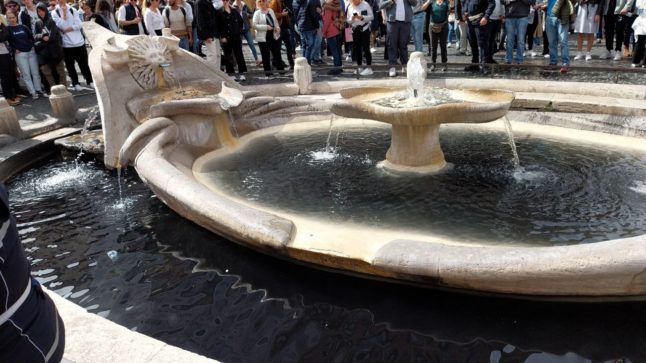 Climate activists turned the fountain at the foot of Rome's Spanish Steps black on Saturday in a protest they said evoked an "end of the world" scenario. Photo: Last Generation/Ultima Generazione
The text of the proposed law noted that new fines would be imposed in addition to existing penalties under laws against criminal damage, which already provide for fines and a potential prison sentence of between six months and three years.
Though environmental activists were the primary target of the bill, some international media reports suggested this week that Italy might also apply the fines to tourists who damage monuments and historic sites in the country.
Every summer, reports of tourists damaging, defacing or stealing pieces of Italian monuments or cultural sites are a regular feature in the news.
A series of such incidents from summer 2022 was highlighted in an explanatory report by the bill's proponents published alongside the draft text. According to Italian media, the report argued that more fines were needed because recent incidents of vandalism proved that existing deterrents "do not always obtain the desired results."
"Just think, for example, of the person who drove a hired Maserati SUV onto the Trinità dei Monti stairway [the Spanish Steps]", the report said, "or of anyone who has travelled through part of the Pompeii archaeological park on a scooter, water-skied in Venice on the Grand Canal, sprayed graffiti on the walls of the Colosseum…"
Before being converted into law, the bill must get approval from both houses of the Italian  parliament, where the ruling hard-right coalition has a large majority.
READ ALSO: Why are climate protesters glueing themselves to Italian artworks?
Members of the opposition Five Star Movement criticised the announcement, describing it in a statement as part of a "policy of mass distraction with which the Meloni government continues to try to cover up its evident inability to deal with the most important issues".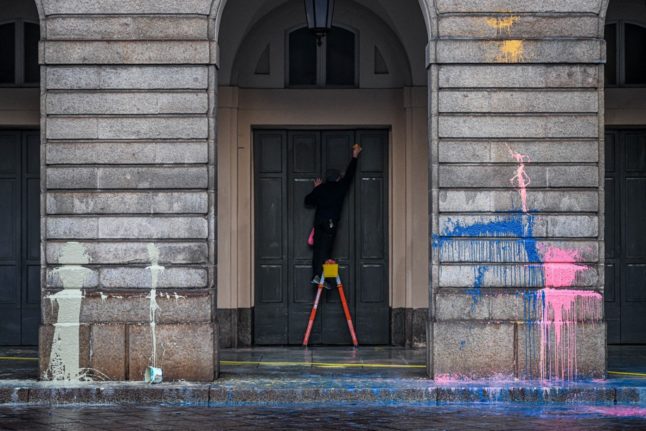 Cleanup of the facade of Milan's La Scala theatre in December 2022 after environmental activists smeared it with paint during a stunt aimed at raising awareness about climate change. (Photo by Piero CRUCIATTI / AFP)
Climate activists from protest group Ultima Generazione (Last Generation) began carrying out peaceful but disruptive protests in Italy last year ahead of the general election, urging politicians from all parties to make climate change their priority.
The group wants Italy to invest more in renewable energy, pause the reopening of old coal power plants, and cancel all fracking operations.
"It's very sad to see that political parties are competing with each other to punish those who temporarily smear works of art and monuments, instead of worrying about immigration, drought, bills," Last Generation activist Maria Letizia told Italian news outlets on Sunday.
"Repression is the first response to what you don't want to hear," she added.
"We are prepared for repression and it doesn't scare us. We cannot stop, climate change won't stop."