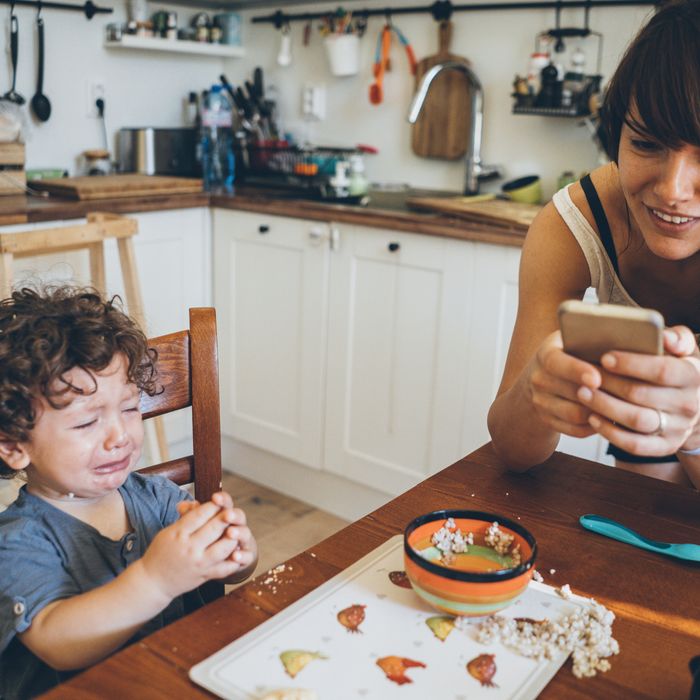 Photo: Getty Images/Getty Images
My mother wasn't the Betty Crocker type of stay-at-home mom. She was the type that pulled us out of school to go antiquing and get Reese's sundaes at Friendly's. She was always sending me and my siblings out into the woods to find moss or Princess pine for art projects; blue-jay feathers and dried Queen Anne's lace littered her craft table. We spent afternoons digging with her in an old bottle dump behind our nineteenth-century Massachusetts farmhouse, searching for treasure. If ever we found a cobalt-blue medicine bottle (which was almost never), she'd scream as though we'd struck gold: "It's the rarest color!" She told us only boring people got bored.
As a kid, I never considered whether or not I'd become a mother because she showed me that there was nothing more exciting one could be. She made me believe that motherhood was a source of ultimate power that could be used to create a world in which you might be your best, truest self. Her performance was so big I got lost in it.
Well before I would spend hours scrolling Instagram looking for newer, fresher maternal performances to inform my own—before I coveted Naomi Davis's bold red lip version of motherhood, or before I had feelings about Hannah Neeleman and her seemingly endless font of sourdough-baking maternal energy, before I found Julie D. O'Rourke and her Wes Anderson–esque, hand-crafted Halloween costumes—my views of "Mother" were informed almost entirely through what my own mom made of the role.
Throughout the surreal, grueling months of 2020, I did my best doomscrolling while hiding in the bathroom, feeling bleak as hell, my husband wrangling the kids for bedtime. One such evening, in September of that year, I stopped my thumb's mindless swiping long enough to stare at a photo of pink tulips in a cream-colored jug and a record player on a simple pine table. The post was from Amanda Watters, a momfluencer with four children (one more than me) and whose life is, according to Instagram, well-lit, her countertops are always clean, and her maternity is serene. She writes frequently about how home nurtures her creative spirit. The caption was about folding laundry and a podcast in which Elizabeth Gilbert defines the creative impulse as "making something more beautiful than it has to be."
I heard a dull thwack in the distance (the sound of a kid falling) and my body tensed. My daughter burst in. "Mom, Si's crying and he wants milk." I sighed and cursed under my breath that I can't even remove my menstrual cup in peace. I wanted so badly to do work that is "important and valuable," but this didn't feel like that. I kissed my baby's head-bonk and nursed him, his hiccuppy sobs slowing into the steady rise and fall of his chest against my own, and I resolved to live the next day in the spirit of @mamawatters, to go all in. Because seething in bathrooms wasn't working.
When I woke up at 6:43 a.m., I lit a candle. When I got dressed, I chose my fake-vintage Levis, even though they're not comfortable when I sit down, and a sweater that looks handknit. I smeared on organic face oil and called it a "calming ritual." I stuck to some semblance of a homeschool schedule, Googled "Magna-Tile activities," took meat out of the freezer at noon, and wiped the counters after every meal. Laundry was sorted, started, dried, folded, put away.
We made potato prints, but my daughter painted hers over with garish neon-pink glitter and my son made a cartoon-y cat. The only print that made it to Instagram was mine, which featured minimalist arcs. I felt a little guilty for not showcasing my kids' ugly art, but mostly I felt angry at myself for placing value on their art in the first place and treating it like a reflection of my motherhood. Instagram makes it easy to believe that beauty is part and parcel of the work of mothering. If you're not trying to make it pretty, what's the point?
Somehow the baby smeared his bare foot with the ink and the resultant mess set back dinner prep, which made the kids hangry, which made me yell. By the time my husband emerged from our home office, I hated him for his uninterrupted hours upstairs. I thought of @mamawatters and, willing myself to find a way to make my space "more beautiful than it has to be," stooped down to pick up Polly Pocket's tiny plastic chair. I hated that tiny plastic chair too. It was 27 minutes past bedtime, and I could hear one of my kids having a fit because her favorite PJ bottoms were in the wash. I felt an overpowering urge to get in the car and just drive.
Because I consistently fail to achieve my fantasy of maternal grace, I want confirmation that all moms are failing to achieve that grace, and I scroll to locate the place where the performance stops. I spend too much time scanning photographs of @mamawatters's living room for a glimpse of neon or plastic, a Paw Patrol toy hidden beneath the linen slipcovered couch. There never is any Paw Patrol toy, but I keep wondering if it's lurking just outside the frame. I want proof that I'm chafing against motherhood not because I'm innately selfish, impatient, and bad, but because motherhood makes me this way. Makes us all this way.
When I bemoan my sometimes-miserable experience of maternity, my therapist asks me to recall the not-so-shiny moments of my childhood, to move past the fairy tales I've told myself about my mother. Instead, I rattle off the usual stories about her artistry and her laughter, her insistence that we learn the names of the flowers and the birds.
My therapist nods (she's heard it all before). "Did she ever yell at you?" she asks.
And I remember. How, actually, my mom moved through my childhood in a state of just- below-the-surface simmer. How she sometimes stayed in her gardens until it was dark, and my siblings and I would call out that we were hungry; how she clenched her jaw; how she swerved her car out of the driveway too quickly, cigarette smoke trailing her. She yelled often. She yelled when we were packing up the house to go on vacation, she yelled at us to "stop fighting," she yelled when I was sullen at breakfast, she yelled when I didn't respond brightly enough to the too-loud question "How'd you sleep?" She yelled at me for being "fresh."
I remember calling her a bitch as a kid, remember her hand gripping the back of my head like an iron vice as she shoved a cold, waxy bar of Irish Spring soap into my mouth, bits of it softening into the cracks between my teeth. I feel her rage in my bones sometimes when I slam doors, when I shove a shoe onto a squirming kid's foot because we're running late just put your shoe on jesus christ! When I yell at my kids to "stop fighting." When I yell at my kids as we're packing up the house to go on vacation.
My mother recently moved to a rambling house in New Hampshire near my own. Her mantel is covered with chunks of creamy granite she found in the woods, stones flecked with the glitter of mica. Crumbling bits of dried moss and lichen litter surfaces and I remember how many beautiful messes she made during the first couple months of my first child's life, when she stayed with me to hold me together, when I didn't care about how things looked because the rawness of new motherhood rendered appearances obsolete. I remember spending forty-five minutes to get my son to sleep before running out to the screened-in porch, which my husband and I dubbed "Cin's opium den." I remember how she validated my feelings that motherhood felt like a scam sometimes, I remember walking by her side as she smoked and I sipped an IPA, and she showed me what she had done in the gardens while I had nursed, pumped, rocked, shushed in an infinite loop. I remember when she finally left, her suitcase in the backseat, and feeling OK only because she promised she'd come back if the blackness returned. I remembered how she mothered me.
At her new house, my mom welcomes frogs in the swimming pool, and makes my husband move boulders to the edges so they can easily hop to freedom. She paints the house an inky black but can't decide on the color of the front door. For weeks the door is covered in a patchwork of red and yellow blotches. She still cares about how things look, but she seems to have found a way to care that doesn't necessitate an audience.
She's not a typical grandmother, by which I mean she isn't content to disappear into a life of gentle background servitude (and a typical grandmother is a social construction just like a typical mother is). She doesn't offer to change diapers. She is never shy about telling us to hit the road when she's tired of our chaos. She does not knit, and she provides grocery-store-bakery cornbread muffins instead of home-baked cookies. If we beg her, she'll still make us tuna melts and hodgepodge soups, but when she's alone, she likes to eat popcorn for dinner. With lots of butter, salt, and Parmesan cheese. She doesn't apologize when her kitchen sink overflows. I like popcorn for dinner, too.
I know now that my mom's performance was never for us, because I know that the performance is never for my kids, even when I pretend that it is. They're kids, after all, and by nature completely self-obsessed. I only exist as a background to the foreground of their own experiences. The performance is for me. It is for us, who were trained to perform for the male gaze and whose primary value as sex objects no longer holds so much currency. We perform mothering online as a way of accessing meaning when, most days, the work of motherhood doesn't seem to mean much of anything according to the many men legislating against paid family leave, universal preschool, and childcare subsidies.
We perform motherhood for ourselves. We mother for others.
Adapted from Momfluenced: Inside the Maddening, Picture-Perfect World of Mommy Influencer Culture by Sara Petersen (Beacon Press, 2023). Reprinted with permission from Beacon Press.