A Maine middle school dismissed a substitute teacher after her students accessed her "potentially inappropriate" TikTok posts, with one student reportedly claiming that the sub encouraged a class to check out her profile on the social media site.
School administrators at King Middle School in Portland discovered that students had accessed the account on Jan. 18 after parents saw videos shared on group chats among the sixth-grade students. 
"The account potentially contained inappropriate content," Principal Caitlin LeClair wrote in an email to parents. "As the day unfolded, it became apparent that a lot of students were talking about the TikTok account. The account was immediately blocked, thereby discontinuing access for students." 
"We were thorough in our investigation, and the situation has now been addressed, completely resolved, and will not recur," LeClair added, calling it an "unfortunate incident." 
UTAH SUBSTITUTE TEACHER WHO TOUTS 'SHE/ANY' PRONOUNS FEATURED ON LIBS OF TIKTOK
The teacher, identified as Lydia Moon, also went by a number of names as she was undergoing gender transition.
The associated TikTok account appears to have been scrubbed of most content, but includes videos of Moon claiming she had recently been "doxxed" – or had her private information published online with malicious intent – and a note reading "Minors do not interact 18+."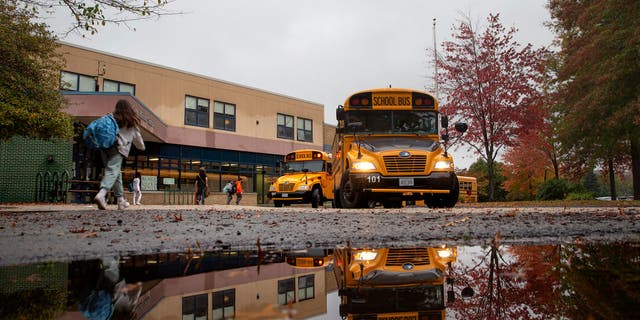 Moon also posted a video of a Reduxx report on the incident and referred to it as part of the "doxxing" that forced her to put her videos on private. Moon used emoji to cover her name within the report. 
One of the videos, obtained by the Maine Wire, showed Moon in a towel and posing provocatively. Parents heard that another video may have included Moon's discussion about her experience undergoing hormone treatment therapy. One student told her parents that Moon had listed her TikTok handle on a whiteboard and encouraged kids to check out her posts, the Wire reported.
Moon did not respond to a Fox News Digital request for comment.
VIRGINIA SCHOOL PRINCIPAL, ASSISTANT PRINCIPAL DEPART AFTER 6-YEAR-OLD SHOOTS TEACHER
Tess Nacelewicz, the communications coordinator for Portland Public Schools, shared the following statement with Fox News Digital: "The district was made aware on Jan. 19 of an incident in which a TikTok account associated with a substitute teacher at King Middle School was accessed by some students late on the previous day on personal devices," noting that district-issued devices do not enable access to social media sites, including TikTok.
"The school and district were thorough in our investigation, and the individual has been dismissed," the statement continued. "The district has a strict policy on the use of social media by school employees that requires employees to preserve the integrity of the learning environment and maintain professional boundaries with students at all times."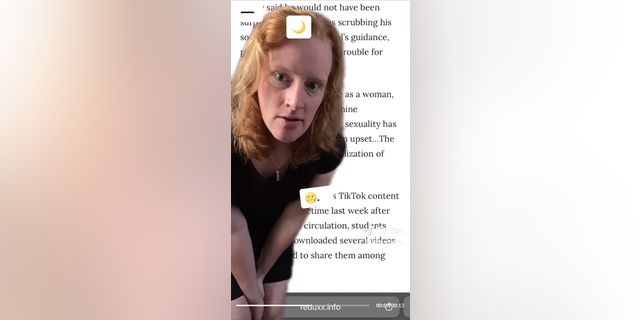 The district shared a letter on Jan. 20 with parents in which it reminded parents of "the importance of monitoring your child's use of social media."
It also stressed that "in terms of our processes for vetting substitutes, we interview candidates and conduct background checks. It is not our practice to review candidate's social media accounts for any positions in the district as part of our application process."
PARENTS SAY 'DREAM' SCHOOL DISTRICT HAS BECOME A 'WOKE' NIGHTMARE: 'THE JOKE'S ON US'
Mark Davey, a parent of one of the students, told Fox News Digital that his daughter knew of the teacher as "Ms. Moon" and told him that the teacher was openly sharing her TikTok handle with students. In emails reviewed by Fox News Digital, Davey raised his concerns with the school administration after finding the school's statement on the incident did not give "any information as to what's specifically been done."
"She admits that this didn't happen during her time in the classroom, but other students have said this," Davey wrote to the school regarding the incident. "I've also heard rumors that videos were shared of the teachers 'transitioning.' I'm going to need clarification as to what the teacher was openly sharing with the class."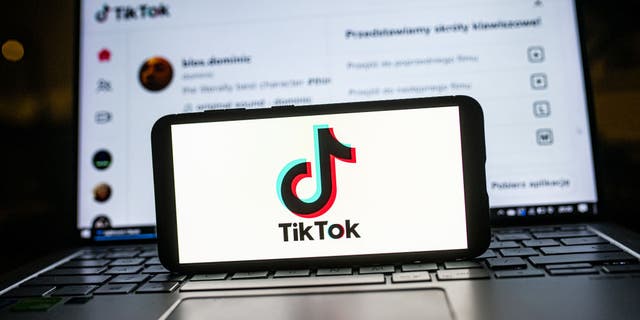 The school told Davey that they had conducted an investigation and that the teacher "will not return to King." Additionally, the school said it saw "no evidence of sexual or mental abuse." 
"I am sorry this happened," Principal Caitlin LeClair wrote to Davey.
TEXAS SCHOOL BOARD PRESIDENT RESIGNS AFTER ALLEGATIONS HE SEXUALLY ASSAULTED 16-YEAR-OLD GIRL
Davey said that his daughter had no access to TikTok on her own phone, but saw the videos in a group chat with other students who had downloaded the videos and shared it. He stressed that his issue is with the type of content students may have been exposed to rather than any issue with Moon's lifestyle.
"This has nothing to do with my opinion and whatever this person identifies as it has to do with what they've shared with my children and whether that's appropriate or within the guidelines of an educational faculty staff," Davey told Fox News Digital.
Davey said he raised concerns with the school over potential criminal activity.
CLICK HERE TO GET THE FOX NEWS APP
"I specifically asked if maybe any local law enforcement agencies were getting involved to see if maybe a crime had been committed," Davey explained. "It sounds like they didn't do anything like that: It was just an internal investigation, which led to… at first, I think it was an administrative leave.
"That's a concern for me," he added. "I don't really want kids being exposed to inappropriate things like this, you know?"