BUCKTOWN — The owner of a popular mobile coffee business that sets up on The 606 and at offices and events across the city is opening a shop this summer in Bucktown.
Thrd Coffee Company is owned by Raoul Adwan, a 29-year-old Chicago native who has worked in coffee-related jobs since he was in college.
At the beginning of the COVID-19 pandemic, Adwan started selling lattes to friends out of his Humboldt Park apartment. That turned into a full-time business, with Adwan selling coffee from a mobile cart all over the city.
Now, Adwan is opening a brick-and-mortar location of Thrd Coffee Company in the former Hugo Tea, 1816 N. Milwaukee Ave.
The space is about 80 percent built out, Adwan said Tuesday. He plans to open this month or in early June.
The shop will feature a full espresso and pour-over menu featuring beans from local roasteries, plus cold brew in the warmer months and teas from Hugo Tea. Thrd Coffee will also have a cereal bar, a rotating pastry selection, breakfast burritos and Bolivian salteñas from Roeser's Bakery, Liberation Donuts and elsewhere.
Adwan sees the cafe as a headquarters for his growing catering business as well as a place for people to work, hang out or grab a coffee to go.
"There's a lot of coffee shops that are really putting an emphasis on the coffee science, on coffee farming, on sourcing, and I really believe that that is super true. … [But] we really want to do something different. We really want to just be like, 'Yeah, this is a fun space,'" Adwan said. "And if anything, it's going to just open up more opportunities for us to continue our catering program for other spaces."
Adwan got bit by the coffee bug when he was a junior in college studying abroad in Bolivia, where some of his family is from.
Returning to Chicago a few years later, Adwan landed a job at Back of the Yards Coffee and later Tradecraft Coffee & Tea Outfitters, which gave him a close-up view of how the industry works.
After a brief pivot into teaching, Adwan got back in the coffee game, but not exactly on purpose.
One weekend early in the pandemic, when Adwan's school had gone fully remote, he posted on Instagram he would sell lattes to friends who stopped by.
Friends showed up, and Adwan spent hours running coffee drinks down to the street from his apartment.
Adwan made $80 that first weekend — and realized he had tapped into something bigger. He started seeking advice from colleagues and friends in the coffee business. Eventually, he built out a cart with all the necessary supplies.
"If you asked me if the pandemic never happened, would I be here? I don't think I would. I think I would still be back in the coffee industry, but not at this level, not at this extent," he said.
Adwan launched Thrd Coffee Company in fall 2020 with a pop-up outside of Humboldt Haus in Humboldt Park. He began partnering with other businesses and residential buildings.
"We finally opened up as a mobile bar, and we were just popping up with local businesses. We were seasonal. And then in the winter time, I wanted to connect with property managers, condo buildings, because during COVID, people couldn't go to their coffee shop, so at least we could be in the lobby," Adwan said.
In 2021 and 2022, Adwan booked more events and parties, landing a spot on The 606's Bloomingdale Trail in partnership with LG Group, the developer behind the large apartment complex Trailhead at 1744 N. Western Ave.
Adwan credits the success of Thrd Coffee to its flexibility — he can set up pretty much anywhere — and the growing popularity of pop-up coffee bars.
"We're fluid. Wherever you see a need, we'll try to meet it," he said.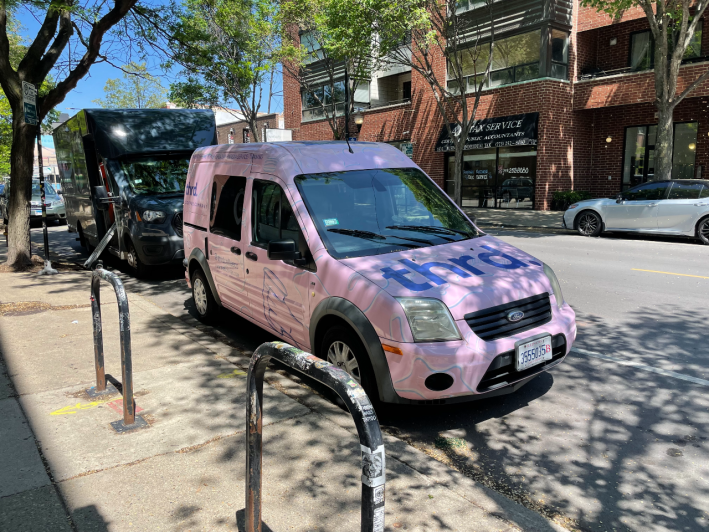 From the moment Adwan launched Thrd Coffee, he's leaned on his Latino roots — he's half Mexican, half Bolivian — to guide and inform his business decisions, he said.
That includes Thrd Coffee's branding online and in murals designed by Overbite Studio for the cafe.
Adwan said he was also inspired by the brightly colored album art of hip-hop artists, especially Chance The Rapper's "Coloring Book."
"I was seeing very like Bon Iver-esque, Mumford and Son-esque coffee shops, and I just really wanted to do more of a Southwest Side-influenced shop, with like, Samm Henshaw, Chance The Rapper, Anderson .Paak influence," he said. "You know, if they had their own coffee shop, what would it look like?"
Adwan also hopes his success can be a model for kids who come from neighborhoods like his own: He grew up in Brighton Park, where his dad worked as a CTA bus driver.
"My goal is to inspire inner-city kids, CPS students, kids that it was hard for them to come up, trying to show them that one, there is a career in coffee [and] two, you can be a business owner. You can be inspired by other things," Adwan said.
Adwan had hoped to open near his home in Humboldt Park. But after hearing about the closure of Hugo Tea in January, he reached out to the owner and decided to move into the space and begin renovations.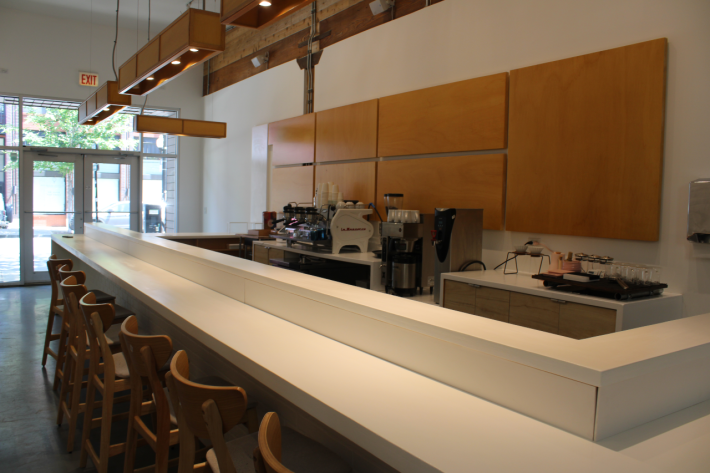 As Adwan starts a new chapter in a notoriously difficult industry, he said he's grateful for the way he built Thrd Coffee: starting with neighborhood pop-ups, connecting with private clients and opening a cafe three years in.
"Owning a coffee shop, it's like a baby to hold, but a burden to carry at times," Adwan said. "I had to figure out ways of like, how can we just do this in a way where we're at peace, we can still stay true, and we could still serve coffee and be excited about what we do. But at the same time, be able to sustain the operations we had in the back end.
"I really just want to create a strong engine."
Thrd Coffee will be open 7 a.m.-3 p.m Tuesday-Sunday. Those hours could change after launch, Adwan said. Opening details will be announced on the company's social media.
Listen to "It's All Good: A Block Club Chicago Podcast":