Who's in The Little Mermaid live-action cast? 2023's The Little Mermaid is a remake of the 1989 classic from Disney, and it has a whole new cast filled with talent.
A new spin on what fans believe to be one of the best Disney movies, the live-action reimagining has attracted some big names to the musical and could easily make stars of its newcomers.
But who's in The Little Mermaid live-action cast? Let's go through the list and see what other movies and TV series they've been in before landing a role in the new family movie ahead of its May 26 release date.
The Little Mermaid live-action cast list:
Halle Bailey as Ariel
Melissa McCarthy as Ursula
Jonah Hauer-King as Prince Eric
Javier Bardem as King Triton
Daveed Diggs as Sebastian
Jacob Tremblay as Flounder
Awkwafina as Scuttle
Noma Dumezweni as Queen Selina
Jessica Alexander as (rumoured) Vanessa

Halle Bailey as Ariel
Halle Bailey leads The Little Mermaid as of of the most famous Disney princesses, Ariel.
Disney picked Bailey not just because of her glamorous looks or soft acting ability, but because she's a talented vocalist, too. Bailey was previously best known by people for being one half of Chloe x Halle, a musical duo that pairs Bailey with her sister, Chloe. Together, they've earned five Grammy Award nominations.
This isn't the singer-songwriter's first dive into cinema though. She's appeared on the comedy series Grown-ish and wrote for A Wrinkle in Time's soundtrack. This is Bailey's biggest role yet, however.
Melissa McCarthy as Ursula
Melissa McCarthy is bringing the delightfully camp and envious Ursula to the big screen. One of the best Disney villains? Affirmative, in our eyes.
McCarthy often gets tacked with the 'they always play the same character' criticism by movie buffs, but while she's certainly known by many for her comedic chops in female-fronted comedies, the idea she lacks range is far from the truth.
McCarthy has appeared in some of the best comedy movies, like Bridesmaids and The Heat (she's a frequent Paul Feig collaborator) but got her breakout role in the TV series Gilmore Girls. She scored an Oscar nomination for Can You Ever Forgive Me?, one of 2018's finest efforts, according to critics.
Jonah Hauer-King as Prince Eric
After a long will-they-won't-they between The Little Mermaid and Harry Styles, the role of Price Eric went to Jonah Hauer-King.
The actor is a rising star, with a few credits behind him. His biggest roles outside of this upcoming movie were as Laurie in 2017's Little Women mini-series and Lucas in A Dog's Way Home.
We expect to see him appear in more projects after this, maybe more from Disney itself, since the Mouse likes to back in-house talent.
Javier Bardem as King Triton
King Triton, the overprotective father with a booming voice and Aquaman-esque trident will be portrayed by accomplished actor Javier Bardem.
You've likely seen Bardem in a bunch of stuff, but his most recent win was the biopic Being the Riccardos, where he starred alongside Nicole Kidman.
He's also no stranger to franchise work, having played one of the best James Bond villains in Skyfall. And, of course, we'd be wrong not to mention No Country for Old Men, which we think is one of the best movies of all time.
Daveed Diggs as Sebastian
Sebastian is one of the CGI animals in The Little Mermaid remake and is voiced by Daveed Diggs.
Diggs rose to fame after winning a Grammy and Tony for Lin-Manuel Miranda's (also knee-deep in this movie) musical, Hamilton. Diggs was also in the drama movie Blindspotting, which is about a man who has to re-evaluate his relationship with his volatile best friend.
Jacob Tremblay as Flounder
This uncanny valley fish is brought to us from the booth of Jacob Tremblay, lending his youthful voice to the character of Flounder.
Tremblay was one of the best child actors, breaking hearts in the Oscar-winning The Room (not to be confused with Tommy Wiseau's The Room), alongside Brie Larson.
A bit more grown up now in his teenage years, the Canadian actor is no stranger to collaborating with Disney, having voiced the lead role in one of the best animated movies in recent years, Pixar's Luca.
Awkwafina as Scuttle
Music artist and actor Awkwafina has a strong working relationship with Disney, evidenced by several projects: Katie in the MCU's Shang-Chi, the magical dragon Sisu in Raya and the Last Dragon, and now Scuttle, one of Ariel's helping hands once she's turned into a human.
Awkwafina blew us away in The Farewell, a sensitive drama about a family keeping a huge secret from their lovable matriarch, had a supporting role in Ocean's 8, and most recently was in the vampire movie, Renfield.
Read more about Awkwafina's chops in that in our Renfield review.

Noma Dumezweni as Queen Selina
British actor Noma Dumezweni will star as Queen Selina, Price Eric's mother and ruler.
Active in the entertainment industry since 2001, she received the Laurence Olivier Award for Best Performance in a Supporting Role for her turn in A Raisin in the Sun.
She also appeared in Netflix's hit mystery series The Watcher, and the 2020 mini-series The Undoing alongside Hugh Grant.

Jessica Alexander as (rumoured) Vanessa
Jessica Alexander was cast in an undisclosed role, but based on some teases, those excited about The Little Mermaid are placing bets on her being Ursula's human form, who in the original movie went by Vanessa.
Alexander is on the up, best known for her role in the Netflix series (or BBC iPlayer, if you're in the UK) Get Even.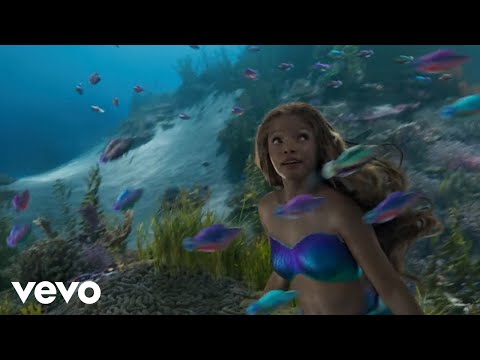 Those are the main players in the new movie's live-action cast. For more fun family entertainment and the best kids movies, check out our list of the best Pixar movies.