The Federal Trade Commission proposed a "blanket prohibition" that would ban Meta from monetizing children's data Wednesday. The FTC says Meta—the company formerly known as Facebook—failed to comply with an existing 2020 privacy order by misleading parents about the control they have over Facebook Messenger, and misrepresenting the ways outside app developers can access data.
Making the Facebook Papers Public
"Facebook has repeatedly violated its privacy promises," said Samuel Levine, director of the FTC's Bureau of Consumer Protection, in a press release. "The company's recklessness has put young users at risk, and Facebook needs to answer for its failures." 
Meta did not immediately respond to a request for comment.
The FTC's proposal would prohibit Meta from making any money on the data it collects from users under 18, noting that the change would also apply to the company's virtual reality efforts in the metaverse. The change would also limit the data Meta collects on minors to information that's necessary for security and running its services. Adding insult to Meta's injury, the FTC also wants to prohibit Meta from using that data for money making even after users' 18th birthday.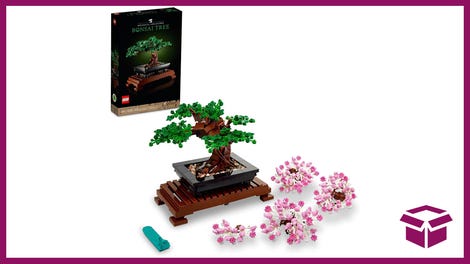 20% Off
LEGO Icons Bonsai Tree
A perfect tree
This magical little tree is a lot of fun to build, has a few customizable parts, and never needs watering to keep it alive. You can water it if you want, but it's not necessary.
For now these are proposals, not orders, because the FTC has to give Meta the opportunity to respond before reaching a final decision.
This marks the third time the FTC intervened in Meta's allegedly unfair and deceptive business practices. The most significant came in 2020, when the FTC reached a $5 billion settlement with the company which included a number of requirements, including a privacy review of any new products or services, stricter security rules, and restrictions on the use of facial recognition (a stipulation based on a problem with Facebook's facial recognition settings uncovered by this reporter).
The proposal would be a dramatic change for the world's biggest social media company. However, it might not have a significant effect on Meta's bottom line, according to Debra Aho Williamson, a principal analyst at Insider Intelligence.
"The vast majority of monthly users of Facebook and Instagram are over 18. On Facebook, only 5.2% of monthly US users will be under 18 this year. On Instagram, only 12.6% will be under 18," Aho Williamson said. "While advertisers use both platforms to target teen users, the majority of ad spending will naturally go toward reaching adults, who make up nearly 95% of Facebook's US users and more than 87% of Instagram users." 
However, other changes included in the FTC's proposal could have a huge impact on Meta's ability to innovate in a moment when the company is struggling to regain its composure in a changing tech landscape. Under the proposed order, Meta wouldn't be allowed to launch any new products, services or features without written confirmation from an independent third-party assessor which affirms the company is complying with privacy requirements. The company would also have to get users' affirmative consent before using facial recognition technology.
"If this portion of the proposed changes takes effect, the FTC will effectively be putting an enormous speed bump on Meta's new-product roadmap," Aho Williamson said. 
The announcement argues that Meta violated the FTC's 2020 order while it went into effect and immediately afterward. The FTC alleges that Meta lied to parents about whether they could control who kids talk to on Facebook Messenger, in some cases allowing children to speak with people who weren't approved contacts in group texts and calls. The FTC says this violated not only its agreement with Meta but also the Children's Online Privacy Protection Act, better known as COPPA.
The FTC's proposal would apply to all of Meta's services, including Facebook, Instagram, WhatsApp, Oculus, and Horizon Worlds.