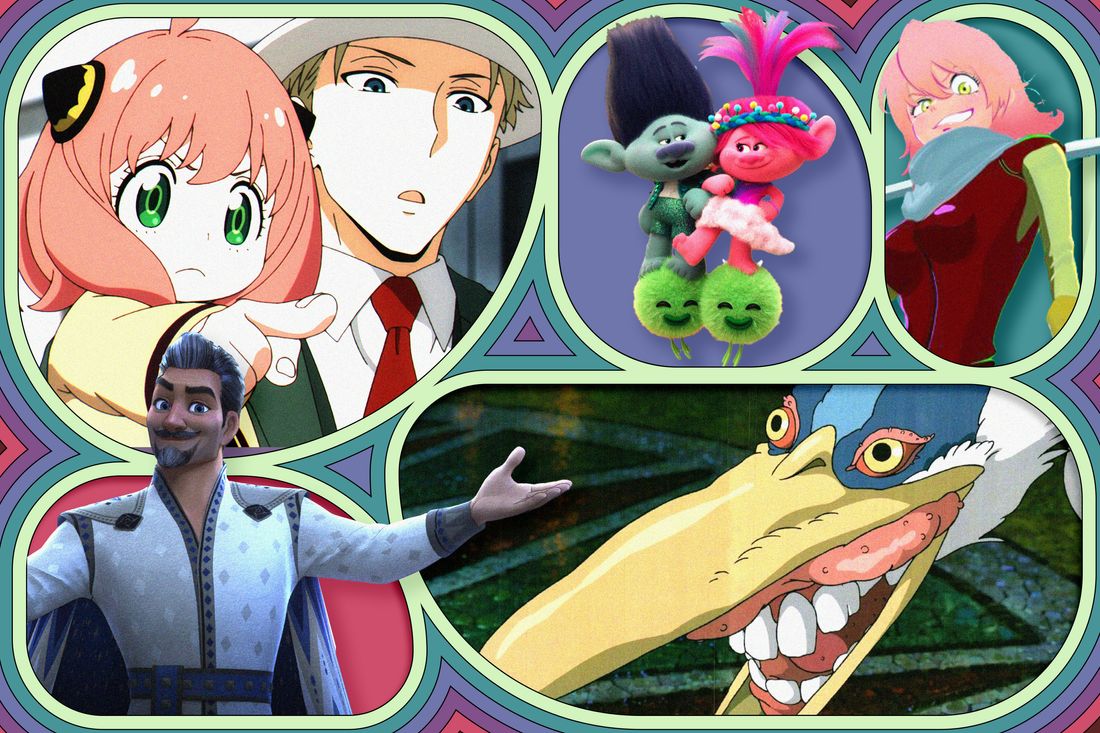 Photo-Illustration: Vulture; Photos: Adult Swim, Crunchyroll, Disney, GKIDS, Universal Pictures
Some bittersweet themes — retirement, aging, and endings generally — run through several of the upcoming animated film and TV releases of the fall, a time when nature slows down, the air chills, and we find excuses to break out our cozy sweaters. That doesn't mean, of course, that the new animation isn't stuffed with life or liveliness. The next few months will deliver a buoyant new Disney film, a fresh Dan Harmon series, and a return to the shadowy vampire-hunting action of Castlevania. At the same time, they'll give us Hayao Miyazaki's farewell to feature filmmaking with The Boy and the Heron, the final bow of Disenchantment, and the end of an era with the conclusion of Attack on Titan (for real this time). Before the holidays hit, we'll even hear Gilbert Gottfried voicing an animated character again. Here's to autumn: It'll be gone before we know it.
When Adventure Time ended its ten-season run in 2018, showrunner Adam Muto said reboots or revivals would be inevitable: "It'll happen, it'll look different, and probably none of us will be involved in it." Almost exactly five years later, his prediction bore out with Distant Lands and this new spinoff miniseries — but Muto is still working on it, as are actors Madeleine Martin and Roz Ryan, the original voices of Fionna and Cake, two characters conceived by Natasha Allegri and introduced in an Adventure Time episode Muto co-wrote and co-storyboarded more than a decade ago. Fionna and Cake originated as gender-bent, alt-universe takes on Adventure Time protagonists Finn and Jake, but now the show is all their own.
Just in time for Futurama's latest revival, another irreverent animated sitcom from Matt Groening waves good-bye. Fifty episodes after a princess, an elf, and a demon first walked into a bar on Disenchantment, which has literally gone to hell and back in its Dark Ages misadventures, the show will call it a day. It never saw stellar reviews, but it has accrued a rabidly loyal following since debuting as one of Netflix's buzzier adult animated offerings in 2018. Showrunner Josh Weinstein has assured fans that the writers managed to give the series a proper ending well before the ongoing strike began, so Princess Bean will get her happily ever after — or what passes for it in Dreamland.
More than a decade ago, Ernest & Celestine — a cozy French-language film about a cranky bear and a creative mouse — charmed film festival audiences with its minimalistic art style, watercolor character designs and backgrounds, and class-conscious story. This dynamic duo returns in A Trip to Gibberitia, where they try to bring music back to a country that's long since banned the playing of any musical notes. The chill-looking new movie has already been warmly received internationally and has been picked up for U.S. distribution by GKIDS.
The less we all collectively know about The Boy and the Heron going in, the better. That seems to be the logic behind Studio Ghibli's initial rollout of venerated anime director Hayao Miyazaki's new feature — and most likely his last, though the man's historically allergic to retirement. Unless you want to read the (excellent) reviews that accompanied its Japanese release in July, just know that we have only a single poster to go on and the knowledge that the Japanese children's novel How Do You Live? appears in the movie after providing the film's original, far more existential title. For those of us in North America, The Boy and the Heron will be distributed by GKIDS, starting with a premiere at the Toronto International Film Festival.
Gamera may not be quite as beloved internationally or as well known as Godzilla, but he's still "Guardian of the Universe" in our eyes. The kaiju returns in anime form this season with Gamera Rebirth — a six-episode series from Hiroyuki Seshita, who also directed Netflix's recent Godzilla anime movie trilogy. The Gamera Rebirth trailers tease lots of kaiju combat punctuated by gnashing teeth, destruction on a massive scale, and underwater and aerial fight sequences. Your mileage may vary on its use of 3DCG animation, but in the context of staging giant monsters rapidly brutalizing each other, it doesn't look too shabby so far.
The Fooly Cooly cannot be contained — not by one show and not by one genre. The legendarily stylish and musical FLCL franchise's latest release puts grunge front and center (after sequel entries subtitled Progressive and Alternative). The pink-haired Haruko, a fixture of the series, is back and wielding a sword of some sort in addition to her bass guitar; the evil galaxy-spanning megacorporation Medical Mechanica also returns. But what we're most excited about is new music from the Pillows, the band that has soundtracked the show since its early aughts debut.
Animation nerds know all too well that the original Tiny Toon Adventures helped kickstart a quiet kids-cartoons revolution in the '90s as the first show to debut from Warner Bros. Animation and Amblin Entertainment — a partnership that led to shows like Animaniacs, Pinky and the Brain, and Freakazoid! (to say nothing of the creative talent they developed). Tiny Toons Looniversity revives the series by following the Animaniacs reboot rule: If it ain't broke don't fix it. Just as Adventures did, the new show sends characters like Buster and Babs Bunny, Plucky Duck, and Hamton J. Pig off to toon college to become the next generation Looney Tunes with characters like Bugs, Daffy, and Porky serving as their college professors. You'll recognize plenty of old-school Looney Tunes and Tiny Toons visual gags, like misplaced eyeballs, hyperextended jaws, and cartoonish bodily harm, in the trailer.
Stop-motion had a massive 2022 — the year of Pinocchio, Marcel the Shell With Shoes On, and Wendell & Wild — and it will return in the winter with a long-awaited Chicken Run sequel. But this fall, The Inventor carries the form's indelibly tactile baton with a movie about one of the western world's most consequential Renaissance men: Leonardo da Vinci. Directed by Jim Capobianco, one of the writers of Ratatouille, and starring ​​Stephen Fry, the film looks a lot like the Animagic stop-motion technique used in the Rankin-Bass holiday specials of decades past but more polished. It pairs this form with yellowed traditional 2-D sequences evoking da Vinci's drawings. Mixing the styles feels like the right way to tell a story about this artist and inventor's relentless experimentation.
Welcome to ancient Greece, where humans, gods, centaurs, and other mythological creatures are engaged in the herculean task of creating a civilized society, maybe even an empire. Krapopolis follows Tyrannis (Richard Ayoade), a "virgin king"; his mom, Deliria (Hannah Waddingham), "goddess of self-destruction and questionable choices"; and his dad, Shlub (Matt Berry), a half-centaur half-manticore, as they manage a city-state and innovate on discoveries like pants. It's the latest from Dan Harmon, Jedi master of Community, Rick and Morty, and story circles, and, most strangely, Krapopolis is apparently on the blockchain and fueled by NFTs. Not sure what's up with that, but the trailer teases plenty of cartoonish violence and irreverent comedy playing on the show's title. Krapopolis has already annexed second- and third-season renewals. We'll see how the first one goes.
The stylish vampire saga Castlevania is back with a new show set centuries after the acclaimed 2017 series ended. Nocturne follows Richter Belmont, descendant of the original's Trevor Belmont and a character featured in the Castlevania games Rondo of Blood and Symphony of the Night. It's unclear exactly how closely Nocturne will follow the plot of those games, but the trailer teases a sleek, devilishly scary plot set against the backdrop of the French Revolution.
Immortal elves may be common in fantasy literature, but it's not often that a work devotes itself entirely to their emotional perspective as they watch their mortal friends pass away. Frieren: Beyond Journey's End will be more contemplative and slower-paced than most typical anime releases; it's set, as the title implies, after a quest has wrapped up and a demon king is vanquished. In the aftermath, the elf mage Frieren leaves her comrades behind and returns decades later only for one of their funerals, an event that forces her to reckon with her friendships, legacy, and immortality in the long term. Based on a manga of the same name and directed by Keiichirō Saitō (Bocchi the Rock!), Frieren promises to be one of the year's most intriguing new releases.
Who knew one of the late, great Gilbert Gottfried's last screen roles would be this hard-R, violently grisly, hysterical-looking animated Mortal Kombat movie? Cage Match is the latest under the direct-to-video Legends banner and stars Joel McHale in his third round as Johnny Cage. How much you dig it may directly correlate with how much you dig the Mortal Kombat games and movies as a whole — these Warner Bros. Animation DTV releases aren't made for the uninitiated. But for those who buy in, this one looks full of swearing, fluid action sequences, and neon-lit '80s vice inspired by the art of Patrick Nagel.
The spy-fi action comedy that became one of 2022's best new anime series is back for more. The premise is simple: An agent code-named Twilight assembles an undercover family for himself but is at first unaware that his "daughter" is a telepath and his "wife" is a deadly assassin. This dynamic leads to relentless shenanigans as Twilight tries to do two jobs simultaneously — be the perfect agent and be the perfect dad. Created by the manga artist Tatsuya Endo, Spy x Family spoofs everything it can, including naming Twilight's dog Bond and designating the mind reader Anya, whose powers were developed in a lab, Test Subject No. 007.
What would you do if a mass-murdering alien Übermensch was your dad? Robert Kirkman's Invincible comic and its animated adaptation answer that question, mostly to explosive effect. The first season of Invincible felt like a gift: an adult-geared superhero story that never got bogged down in self-referentiality and wasn't beholden to the trappings of the shared universes of Marvel and DC. It complements The Boys, its Prime Video labelmate, nicely but has even better casting, more compelling characters, and a lighter touch on the edginess that sometimes overwhelms the other show. Hopefully, the second season, set to deal with the fallout of Invincible's standing up to his father, feels as confident as the first.
Junichi Sato, the anime director responsible for the first two seasons of Sailor Moon, is pulling a neat trick with this new show. He directed the 1989 anime series Akuma-kun, based on a manga by Shigeru Mizuki about a kid who makes deals with demons to bring peace to the world, but it (and a pair of films) came and went. Sato has now returned to the property as its chief director, accompanied by series director Fumitoshi Oizaki, to make a sequel that follows similar plot beats. And he made the 30-plus years since he last touched Akuma-kun part of the premise — the new show is set more than three decades after the original and features an art style that harks back to its sublime '80s-anime look.
Rest assured, this new Scott Pilgrim isn't the old Scott Pilgrim, even though the Edgar Wright film's cast has largely returned to reprise their roles. The new show brings a new expressiveness to Bryan Lee O'Malley's original story that could only come from an anime studio like Science Saru (Inu-Oh, The Night Is Short, Walk on Girl, Lu Over the Wall) and director Abel Góngora (Star Wars: Visions, Keep Your Hands Off Eizouken!) — both known for staging over-the-top action setpieces. Judging only from the trailer, it feels fresher and more energetic than ever, even if we have (seemingly) seen the story play out before.
Ladies and germs, we now have a Trollogy. You may remember the drama that plagued the last franchise entry, Trolls World Tour, which Universal released straight to VOD in the heat of the pandemic, seemingly without giving Justin Timberlake and Anna Kendrick a heads-up. It actually netted relatively solid returns, and three years later, Timberlake, Kendrick, and others are back for another fuzzy-headed, brightly colored musical romp that riffs on JT's own biography as a member of NSYNC: His Troll has a secret past as part of the band BroZone — which is explicitly set up as a Troll spin on … Backstreet Boys.
Walt Disney Animation Studios' newest film looks dazzling. It's got a watercolor-infused art style reminiscent of the company's heyday in traditional animation; an expressive, vivacious heroine named Asha, voiced by Ariana DeBose; and for the first time in what feels like forever for a Disney movie, a bona fide villain. (Chris Pine's King Magnifico looks to literally be a mustache-twirling bad guy in the best way.) After years of churning out forgettable duds like Strange World and hyperCGI'd, allegedly "live-action" remakes, Disney wants Wish to feel like a throwback to the good ol' days when the company made dreams come true.
You've heard it before, but this time it's apparently for real. One of the most popular action anime series of the past decade, Attack on Titan, is finally closing out a last season that has run on and off since 2020. At this point, the series is as known for its hyperkinetic aerial fight scenes as its fascist imagery. Love or hate it, Attack on Titan's fans will no longer be denied their catharsis. At this point in the story, a certain Titan character has maneuvered himself through space and time as a genocidal mastermind of the apocalypse. The final chapters will reveal whether he can be stopped.