I never considered myself a good enough golfer to win tournaments or club championships but that I could at least be competitive, but holy mackerel, I got humbled to pieces this past weekend.
If you have yet to hear by now, I finished +61 over two rounds after putting up a 105 and 100. What's more impressive about the first score is that I played 104 shots with the same ball. That fact amazed every person involved in the tournament and is now a story of lore at the club. In fact, I saved the ball, signed it and am going to give it to a certain head coach that witnessed history.
So yeah, it was a rough weekend, but I still had fun. Tournament golf can be intimidating, and I learned that early on. After a few drinks, though, I started to play better. There could be a lesson there. Anyway, let's dive into some ramblings as I try to get my ego high enough to return to the course.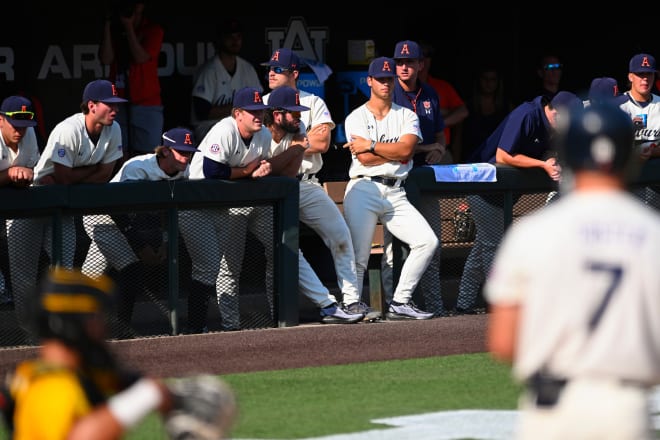 – The Baylor-Auburn basketball game being played in Sioux Falls is quite intriguing. I don't know how they decided on that specific location, but I have been to the South Dakota city once before. That came in 2018 on my way back from living in Pullman, and I watched Nick Fitzgerald and Kylin Hill run all over Auburn in a Buffalo Wild Wings there. It's not the fondest of memories.
– I just found out New Site Tiger has my face plastered into a cartoon character's costume as an avatar, and now I am wondering which character it is. Any help would be greatly appreciated.
– It's not a coincidence that the road you turn onto to get to the McDonald's along Opelika Road is named Ronald Lane, right?
– Auburn baseball had quite a fantastic season, but it was rough to see the Tigers go out like that in the regional. The Tigers batting in the bottom of the 9th made me recall being down in Little League in the last inning and our coach telling some players not to swing until the pitcher had thrown a strike. I always thought it was a weird strategy until I realized that it was because those players weren't any good, and a walk was the only way they would get on base.
– Somewhere along the front nine last week, I realized I had put on two pairs of boxers that morning. Since I have little to no shame, I quickly admitted it to the group. As always, please remember that I have moments like these that make you wonder how I operate on a daily basis.
– Hot Take of the Week: The Savannah Bananas and their act while playing baseball is annoying, stupid and idiotic. I would rather watch six-year-old kids play than that embarrassment. Now get off my lawn.
– In my ongoing war against weird dreams and nightmares, I had a doozy the other night that included it being revealed to me that my dad was actually a North Korean spy and had to escape back to the homeland, leaving the rest of our family in danger. It ended with the house I grew up in being invaded by the United States government. I also had a nightmare about misusing a semicolon in a tweet. I'm not sure which was scarier.
– We have reached the two-month period of the year where no Auburn athletics is taking place. That's no fun for anyone.
– We talked about this on the Rundown on Tuesday, but the lack of guts and will by PGA Tour Commissioner Jay Monahan is so appalling that I can't even compare it to anything. Maybe the SEC giving into Alabama and Nick Saban all the time? He needs to resign immediately.
– K.D. Johnson getting stuck on a jet ski in the middle of Lake Martin makes every bit of sense in the world. I mean, it HAD to be him, right? I'm going to thoroughly enjoy another year of covering him.
– Georgia Southern is playing at USC in 2025, which means Clay Helton, one of the people responsible for the downward spiral of that program, will have to hear the boos and rage from the passionate Trojans fans. Oh, who am I kidding? Those fans will likely be at the beach that Saturday. Football doesn't matter on the West Coast. Trust me.
– So happy that the loyal fans of the Las Vegas Golden Knights or Florida Panthers will get the celebrate a Stanley Cup title soon. When I think of hockey hotbeds, I go to those places first and then Toronto or Montreal. (This is sarcasm for those who can't read into it.)
– As an avid fan of the movie Roxanne, I once emailed the owners of the house that Darryl Hannah's character lived in in that movie (it's in Nelson, British Columbia) to see if they rented it out for groups. I never got a response, killing my dream of reenacting every scene from that movie. Some goals die.
– Finally, to make myself feel better, let's go to the Tik Tok of the Week about the World's Worst Avid Golfer competition. Watching this guy and learning his score will make every person who has stepped on a golf course happy.