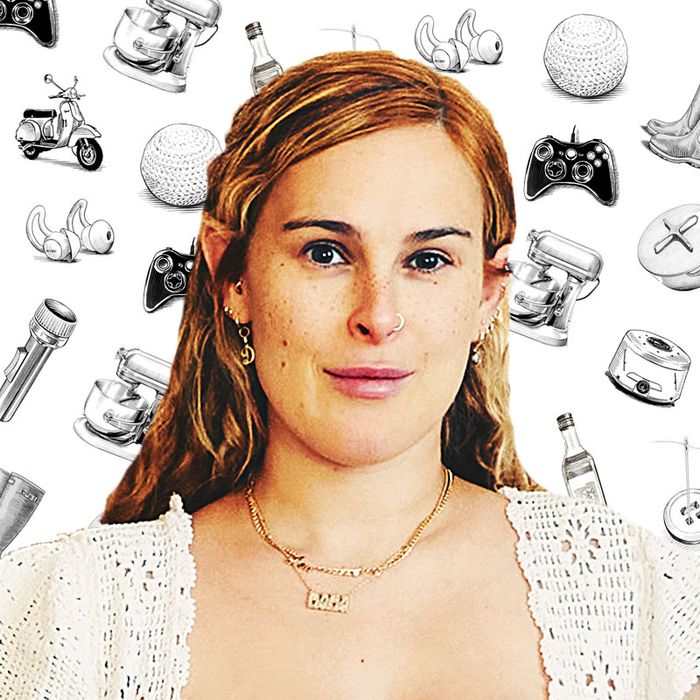 Photo: Courtesy Crate & Kids
If you're like us, you've probably wondered what famous people add to their carts. Not the JAR brooch and Louis XV chair but the hair spray and electric toothbrush. We asked actor and singer Rumer Willis — who recently partnered with Crate & Kids to design her nursery — about the baby carrier she has multiples of, the tallow cream she uses on herself and her daughter, and the attachment that turns her phone into a grippable camera.
I have a bit of a water-bottle addiction. I recognize this. I'm working on it. I should probably go to some meetings for it, but my doula actually introduced it to me, because I'm always on the hunt for the perfect water bottle. Especially when you're breastfeeding, you have to have water everywhere, and it's so easy to forget. I literally think I have about four of them in different colors. I have a tan one, a yellow, this great kind of sea foam green color. I went a little kooky right before she was born and even got this little ice-maker that makes the little circle ice that they have at the hospital, because I was like, "If I'm going to have a home birth, I still want some of those things." I go really bougie and get this glorious rose water from Erewhon and I fill up my Stanley cups with the little rabbit pellet ice. And then I put some rose water in and some mint and lemon, and I have them all over the house.
I've been lucky that I haven't had to deal with a lot of acne in my life, but my skin is super, super dry. While I was pregnant I was really trying to pay attention to exactly what I was putting on my face because obviously that all goes into my body. This cream, not only does it smell amazing, like rose, it's so beautiful, so clean, and my skin has never looked better. It's from Surya, which is this amazing ayurvedic spa that I had heard friends chat about over the years. I finally connected with them when I got pregnant because they do an amazing pregnancy and postpartum program with massages and things like that. I went with Martha Soffer, who created the spa, and she figured out what my dosha is and what kind of things I needed and then set me up with all their products. It's amazing. I use it morning and night, and I even have a little tiny one that I keep in my car with me.
A dear, dear friend of mine who's a glorious makeup artist named Jo Strettell, who I've known since I was a very little girl, created this line. One of my favorite things is having gorgeous scents in my house, and one of my favorite flowers is the tuberose. Not only are her candles so gorgeous, but they just give off such an amazing smell. When I was in labor, not only did I have the candles going on in the house, but I also had real tuberose flowers, and it created just magic. I feel like some candles don't necessarily really give off a nice scent, but these really do. The tuberose, rose, neroli, and the night-blooming jasmine are my favorites.
This stuff's unbelievable. When I was pregnant, my histamine response was so high that any lotion that I put on my body, even ones that I used to use beforehand, would make my skin feel like it was on fire. I didn't really know what beef tallow was, but this lovely little mama on Instagram who runs this business and makes all of these products herself, who was also pregnant at the time, reached out to me on Instagram and said, "Hey, I would love to send you some of my stuff." She has gorgeous face products, but this in particular was a game changer. I used it on my body, on my belly, and then after I gave birth, I used it on my stitches, which may be TMI, but I think it's versatile and amazing. I still use it. What's amazing is that because it's so clean, I use it on my daughter. Whenever she gets out of the bath, I put it all over her body and her skin is so soft. You can use it for anything because it's so clean and you can literally read every ingredient on there.
There's this photographer named Greg Williams, who created this bluetooth shutter grip that makes taking photos so easy. You attach it to your phone and can slide it on and off and it truly is like you're holding a camera. I love it. I've used it so much. I think I discovered this on Instagram during the pandemic. Nowadays we use our phone so much more to take pictures than having actual cameras. Because I like to make content, and especially with a new baby, I keep it on most of the time. I'm taking pictures of my daughter literally all day long. Every minute she's doing something cute, and I just want to document it. When I was a kid, my parents were taking photos and videos of us all the time. I'm so grateful to have all of that, and I wanted to be able to make sure I do that for her.
I like the things to match my outfits, so I think I have about four of them in different colors. They were gifted to me by different people, but I have the swan one, and one that's this beautiful pink cashmere that's glorious. I use it pretty much every day — whenever she is a little fussy or we're going to the farmer's market or just around the house if I'm trying to get things done but I still want her close to me. I would say it's probably the closest I've ever felt to feeling like she's back in my belly again. They're so chic, really comfortable, and not complicated to put on. It's really easy for me to do by myself, even if I'm alone. They're insanely chic and the colors are glorious and so fun.
I partnered with Crate & Kids and worked with Kim at the design desk to create a nursery for my daughter that was cohesive and had some magic in it. When we were kids, there was always color and magic and huge, odd-size stuffed animals. Even now, our house in Idaho is filled with so much wonder that when I bring friends or new people everyone's always very delighted; it really brings out that kind of playfulness. The nursery almost feels Willy Wonka–esque, and the color story reminds me a lot of Wes Anderson by way of Havana, Cuba. The room is not that huge, but I really wanted to play with scale because I liked that this chair was so big. I'm always drawn to things that are really cozy, that have texture, that feel like you're kind of tucked in this safe cocoon. It's a place where she could get cozy and bring a blanket, and when she's a toddler, she could even nap on it. I also liked that it was something that could go into an adult room. It's a piece of furniture that could grow with her because of the size and something she could even take with her. Because she's still so tiny, I like to sit in that chair more often by myself to do stuff, but I'm delighted at some point to be able to have that be our reading nook. Even when she's a teenager, we could still sit and be cozy there.
The Strategist is designed to surface the most useful, expert recommendations for things to buy across the vast e-commerce landscape. Some of our latest conquests include the best acne treatments, rolling luggage, pillows for side sleepers, natural anxiety remedies, and bath towels. We update links when possible, but note that deals can expire and all prices are subject to change.