Legislation to overturn the Biden Administration's flawed, burdensome, and overreaching waters of the United States (WOTUS) rule is set to receive a vote by the House of Representatives this week. 
The Biden WOTUS rule will lead to sweeping changes to the federal government's authority to regulate what is considered a navigable water, with enormous impacts on small businesses, manufacturers, farmers, home and infrastructure builders, local communities, water districts, and private property owners.  The rule is costly and unnecessary and comes at a time when American families and businesses continue to suffer under the economic crises caused by the Administration's policies of the last two years.
H.J. Res. 27, a joint resolution of disapproval under the Congressional Review Act (CRA), was introduced by Transportation and Infrastructure Committee Chairman Sam Graves (R-MO) and Water Resources and Environment Subcommittee Chairman David Rouzer (R-NC), and is cosponsored by 170 Members of Congress, including every Republican member of the T&I Committee.  An identical resolution was introduced in the Senate with the support of all 49 Senate Republicans.  On February 28th, the resolution was approved by the Transportation and Infrastructure Committee.
T&I Republicans Unified Against Federal Overreach on WOTUS
On February 8th, the Water Resources and Environment Subcommittee held a hearing to gain perspectives from industry stakeholders about the effects of the Biden Administration's new WOTUS rule. At this hearing, as well as at the February 28th full Committee markup of the resolution, Republican Members pushed back against this burdensome, ambiguous rule and highlighted the negative impacts it would have on American farmers, small businesses, builders, homeowners and more.  Highlights from both the WOTUS hearing and markup can be found below: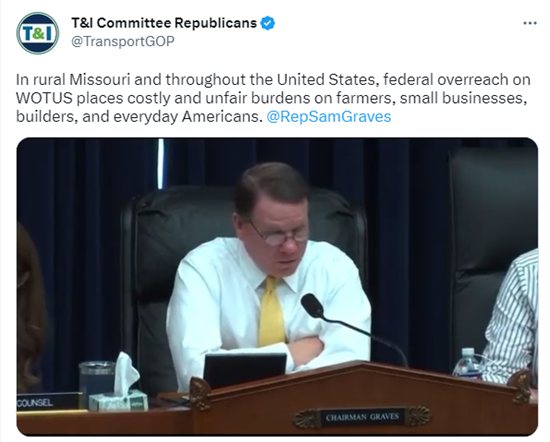 T&I Chairman Sam Graves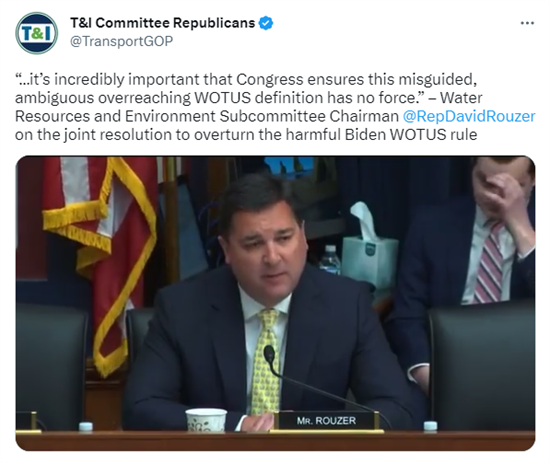 Water Resources & Environment Chairman David Rouzer
Rep. John Duarte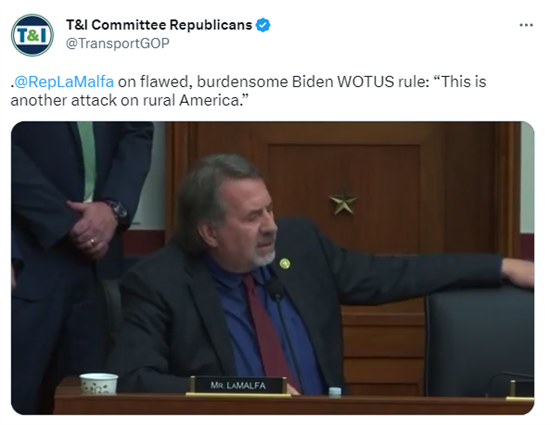 Rep. Doug LaMalfa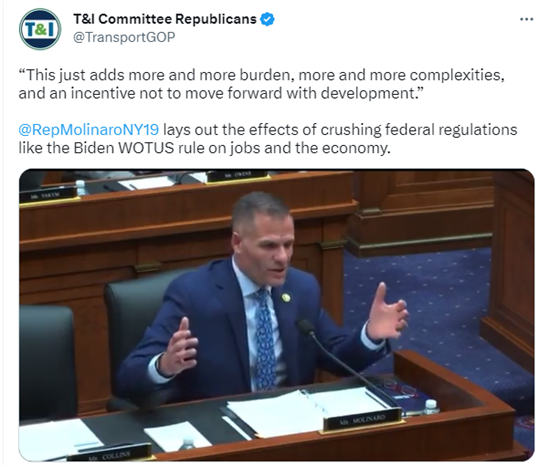 Rep. Marcus Molinaro

View the full video of the February 8th hearing and the February 28th markup:
·  Stakeholder Perspectives on the Impacts of the Biden Administration's Water of the United States (WOTUS) Rule


Stakeholders: "America needs clear, less burdensome water policy so that we can permit and build for the future."
On February 8th, more than 20 industry stakeholder groups issued statements of support for the resolution to overturn the WOTUS rule.  Read their statements here.
Additionally, witness testimony highlights from the February 8th hearing can be found here.
On February 27th, a broad coalition of industry stakeholders sent a letter to the Transportation and Infrastructure Committee and Senate Environment and Public Works Committee leadership expressing support for the House and Senate WOTUS CRA resolutions.  Read their letter here.
On January 31, 2023, Governors from 25 states sent this letter to the President in opposition to the WOTUS rule.