But are algorithms, exotic flavours and 5G connectivity really enough to build a lasting business? Or will Prime end up another fad, like the Pokémon cards, Slinky's and Cabbage Patch kids of the past.
Paul and KSI are certainly adept at creating demand: in April they handed out a "limited edition" Prime Lemonade of just 10,000 bottles to consumers on Venice Beach, California; one bright yellow bottle, adorned with a picture of Paul and KSI, was for sale on Amazon.com.au for $999.
In May, Prime Lemonade became widely available in the US. The YouTubers are gradually going global and will launch the product in Denmark and Norway on June 7.
Both men have woven Prime into their media work: when Paul appeared in an episode of the popular Netflix series King of Collectibles: The Goldin Touch, Prime could be seen in the background as he and Ken Goldin did a live box-break looking for rare Pokémon cards to sell to collectors.
Paul's and KSI's social media posts also include the brightly coloured bottles of Prime. It's an object lesson in how influencers can leverage their fame to launch and market products, especially ones aimed at the youth demographic and live online.
In a radio interview with Kyle Sandilands and Jackie O, Paul and KSI said Prime had generated $US250 million ($383 million) in retail sales globally in its first year; $US45 million in January alone.
They're not alone, the global influencer market has more than doubled since 2019, according to Statista. This year, globally, it has an estimated value of $US21.1 billion.
Woolworths sells a million bottles
It's not just the influencers who benefitted from the Prime launch. It was one of the biggest product debuts for Woolworths, the nation's largest grocery chain, with more than a million bottles sold in the first few weeks. Hundreds of buyers were calling stores every week trying to find out when the drink would be back on the shelf. To ensure fairness, the retailer instigated a five bottle limit per customer.
Last year the drink sparked chaotic scenes in stores around the UK, when it was delivered to Sainsbury's and Asda chains and sold out in just minutes. Both retailers also set limits on sales.
Woolworths launches a few thousand products every year but Prime is something special. On rough calculations, if Prime's early success were annualised, it could make up about 1 per cent to 2 per cent of Woolworths' drink category sales, one analyst says.
"The anticipation, excitement and demand for this was unprecedented, and we're continuing to work closely with the manufacturer to ensure we have stock arriving each week as it's now part of the sports drinks range in our stores," a Woolworths spokesperson says.
Cultural obsession
QUT Professor Gary Mortimer, who researches food retailing, retail marketing and consumer behaviour, says Prime is an example of influencer marketing at its best.
"I've heard stories of people simply refilling the bottle with water or Gatorade, but having it in the Prime container to provide this social connection, that validates themselves with others," he says.
Gina Lednyak, chief executive of content and social media firm L&A Social (a Tag company), says pre-teens and teenagers are more prone to excess and peer pressure. They look for things that provide social status and make them feel part of a community.
"The fact it is hard to get, the scarcity, leads to more of a cultural obsession." she says.
Over the years there have been various crazes with products that catch momentum with youth, then they sell out, and the scarcity is what builds up the hype. Think sour/sweet Warhead candy, girl band Spice Girl lollipops, Pokémon cards, and more recently fidget spinners.
"Prime is the perfect storm of people catching an age demographic that is thirsty for community and belonging and absolutely digitally native, thus exposed to a lot of online content from influencers and peers," Lednyak says.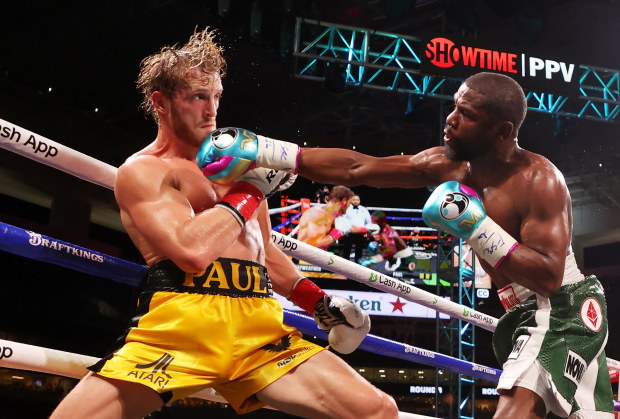 Bring on the money
American Paul is one of the highest-paid YouTube stars with a net wealth of about $US18 million in 2022, according to Forbes. He even held an exhibition match with former world champion Floyd Mayweather Jr in 2021.
There are other media reports that estimate Paul's worth at a staggering $US250 million. Brit KSI is also highly successful and co-founded restaurant chain Sides and Vodka brand XIX, and has an estimated net worth of about $US25 million.
Paul and KSI each own about 20 per cent of Prime with manufacturer Congo Brands owning the balance. Congo also produces Alani Nutrition, a women's sports nutrition product range and 3D Energy drinks.
Congo Brands is owned by Trey Steiger and Max Clemons. The Louisville, Kentucky natives set up Congo in 2014, according its website.
Outsiders hoping for a piece of the action are out of luck, as Congo's website says each of their brands "chooses not to take on debt or outside investment so that growth is controlled from within."
Will mania last?
There have been hugely successful businesses started by influencers, including Australian fitness stars and young Rich Listers Kayla Itsines and Tammy Hembrow, but in the fast moving consumer goods industry longevity is harder to achieve.
Former US president Donald Trump's Trump Steaks lasted just two months in 2007. However, pre-influencer Paul Newman's sauces have outlived the man who created the line and the company is celebrating its 35 anniversary this year.
But the mania for Prime will be fleeting, says Mortimer. In any hyped up market limited supply creates FOMO (fear of missing out) and the need for social validation drives demand among younger consumers.
But then comes the fall, especially when it comes to Gen Z and Gen Alpha, who are always on the hunt for the next big thing.
"They get a bottle for $10, then it gets on-sold in school yards for $15 or $20 a bottle, and then suddenly the novelty wears off and everybody's got it, everybody's tried it, and we start to see discounting. It was only recently someone had Tweeted an image of Walmart selling a pallet of Prime for $1.99," he says.
"Trends tend to be a very sharp curve. So, a really short period introduction, significant high growth, not a lot of time in maturity, and then a very steep decline."
Mortimer says the sports drink market is saturated with the likes of Powerade and Gatorade the top players. While the YouTube stars will seek to extend the life and hype of Prime with the introduction of "Limited Editon", this too is not new. Big global brands do it: Coke moved into diet and less sugar versions and printed names on the cans, while Cadbury offers limited-editon chocolate options.
"Prime is a bit quirky because it's been driven and promoted by influencers who have got a very strong following from a smaller cohort," Mortimer says.
Regardless, he thinks the drink will disappear pretty quickly.
"I walked through a Woollies store today, and Prime was sitting on the shelf next to the Gatorade," he says. "In the recent past, you couldn't get it. I'm already seeing a slowdown in demand."