This week we talked to some Pulitzer winners, debated which TV finale is the best, and watched a Monsoon Wedding.
Here's what the NPR's Pop Culture Happy Hour crew was paying attention to — and what you should check out this weekend.
Jury Duty
Jury Duty is a reality TV series. We have a man named Ronald Gladden who is juror number 6, participating in a trial, that is just the most bizarre trial. I won't even try to explain what is happening here, but he is the only person in this entire set up who does not realize this is all fake. Everyone around him is an actor. Improvisational actors, comedic actors, character actors you might be familiar with from various other shows. And then there's also James Marsden, who is playing himself. What I love about the show is that even though he is not in on the joke, the show never punches down. It doesn't really make him the butt of the joke. He's just reacting to all of the bizarre things that are happening.
In one episode, they go on a field trip at Margaritaville, and they have lots of drinks, and at the end of the night, the bill is stupid high. And while Marsden is in the bathroom, everyone else agrees to ask him to pick up the tab because he is the rich, famous person. But then Ronald offers to pick up the bill if someone beats him at arm wrestling. It turns into just this weird, chaotic moment. What I love about the show also is just the way that all of the other actors are able to really play off of him. And the show ends on a happy note. He is a very game person, even though he has no idea what's happening. He has just like an affable quality to him.
– Aisha Harris
The Other Two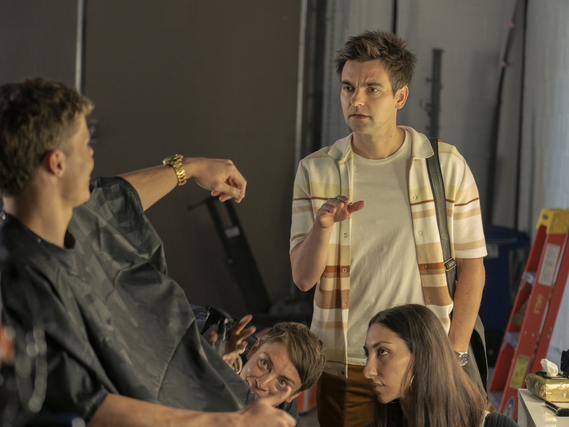 The Other Two is back. Season 3 is streaming on HBO Max, and hasn't missed a beat. This show is a PCHH favorite. It stars Drew Tarver and Alana Yorke as two entertainment industry strivers who keep getting overshadowed by their younger brother. In Season 3, they finally achieved some success, and it is screwing them up in entirely new ways, which is a lot of fun.
The first two seasons were about how desperately seeking fame and fortune causes you to do a lot of very humiliating things. This season is about how trying to cling to success and always seeking more and more acclaim and support can turn you into a monster. It is by far the darkest season yet, and it leans hard into the surreal in a lot of very fun ways. But it knows exactly what it's doing from the jump, and it's got such great jokes. In the seven episodes made available to the press, it's still got that heart that makes all that darkness kind of go down easy.
– Glen Weldon
Every Frame a Painting
Well, I went back and forth about a number of things, but boy, do I love a good bit of nerd content that brings out the nerd in me and in others. I have been very much enjoying a very well-known and well thought-of YouTube series called Every Frame A Painting, which is about filmmaking and it's about form, and it's sort of about how things are shot. Each little video essay has a particular topic that it covers. These are mostly several years old, and I am the kind of person where what I relate to the most in movies and TV tends to be the writing. So it is always good for me to kind of continually spark myself to focus more on form because I don't always because of my fascination with writing. So I always appreciate good opportunities to sort of get a basic grounding in technique and stuff like that. Even if I've heard a lot of this stuff before, putting it back in my head is always good for me and I really appreciate it.
– Linda Holmes
Rutherford Falls
I finally caught up with Rutherford Falls, on Peacock. I just immediately mainlined all 18 episodes — sadly, the only 18 episodes that will exist of this really lovely show. For those who don't know, it's set in a fictional small town in New York. It stars Ed Helms and Jana Schmieding. It kind of captures the divide in this town between the white descendants of the founders of the town and the Native population, including the casino run by the wonderful Michael Greyeyes, who is so great on this show.
I think it takes a little while to get its feet under it. I think it takes a while for it to get as funny as it needs to be. But it is such a charming show filled with charming performances. Actors I will be looking for in other projects. Ed Helms is always his marvelous, goofy self. I just really got a kick out of this show, and I do highly recommend it if you didn't get a chance to kind of catch it when a lot of people were talking about it.
– Stephen Thompson
More recommendations from the Pop Culture Happy Hour newsletter
by Aisha Harris
I binged two very different podcasts recently, both of which I found really illuminating. The first is Party Crews: The Untold Story, hosted by Janice Llamoca, which paints a vivid imagery of a social scene that was popular among young Latinx kids in L.A. during the 2000s. (Full disclosure, the executive producer is a very dear friend of mine, but I was into the show before I even knew she was involved.) The other is Think Twice: Michael Jackson, an engrossing series hosted by Jay Smooth and Leon Neyfakh. Yes, Jackson's life and legacy have been dissected to death, but it still uncovered some details that were new to me, and it wrestles with all the thorniness in an admirable way.
Speaking of thorniness, I'm also digging Allen Hughes' docuseries Dear Mama, about the complicated lives of Tupac Shakur and his mother Afeni Shakur. The fifth and final episode drops on Hulu this weekend.
This New York Times piece about a phenomenon I wasn't aware of until now is really lovely – "Generation Connie" describes how many Asian American immigrants and children of immigrants have been named after journalist Connie Chung.
NPR's Tilda Wilson adapted the Pop Culture Happy Hour segment "What's Making Us Happy" into a digital page. If you like these suggestions, consider signing up for our newsletterto get recommendations every week. And listen to Pop Culture Happy Hour on Apple Podcastsand Spotify.