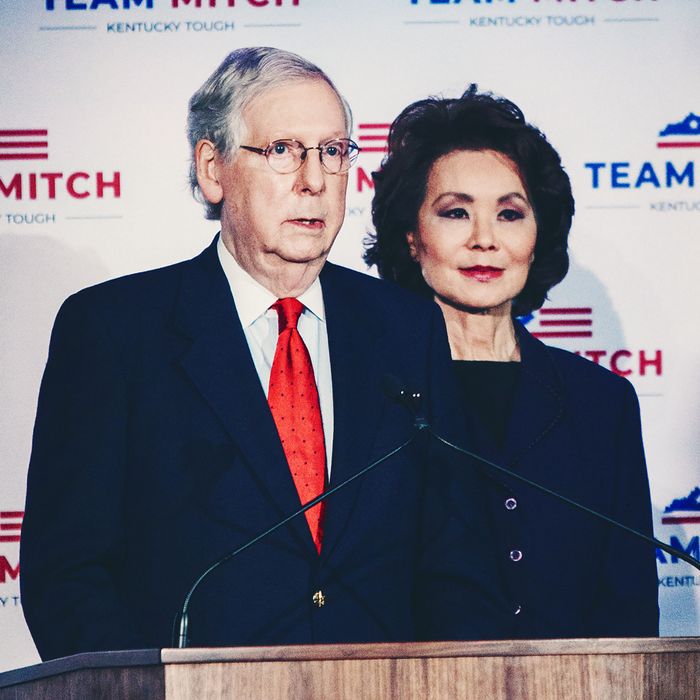 Photo: Scotty Perry/Bloomberg via Getty Images
The good news: The Respect for Marriage Act, which would protect same-sex and interracial marriage, is poised to pass the Senate this week after 12 Republicans joined Democrats in voting for the legislation.
The awkward news: Mitch McConnell, the Senate minority leader, voted against the bill despite the fact that he himself is in an interracial marriage. McConnell has been married to Elaine Chao, the former U.S. secretary of Transportation (and the first Asian American woman to have the job), since 1993. She was born in Taipei, Taiwan, and moved to the United States as a child.
The bill McConnell voted against would codify same-sex and interracial marriage. It would also repeal the 1996 Defense of Marriage Act, which defined marriage as existing only between a man and a woman, and it would protect interracial marriages by mandating that states recognize marriages regardless of sex, race, ethnicity, or national origin.
If you're wondering why protecting same-sex and interracial marriage is even something that needs to be voted on in the year of our Lord 2022, the legislation was prompted by comments from Supreme Court Justice Clarence Thomas, who recently said that the Court should reconsider opinions protecting access to contraception and same-sex and interracial marriages. (It's worth noting that Thomas is also in an interracial marriage, having been married to Virginia "Ginni" Thomas since 1987.)
McConnell was one of 37 Republicans who voted against the Respect for Marriage Act.