Massive congratulations to Dublin student Max Hendrickson (17) who has been named Ireland's Young Filmmaker of the Year 2023 at the Fresh International Film Festival.
His short animated film, The Tell-Tale Heart, is a re-telling of Edgar Allan Poe's famous short story and it scooped the top prize for the amazing young Director.
Max was one of 13 award winners at the #IYFTYs, hosted by Stephen Byrne and Gemma Bradley. The competition was SERIOUS, so well done to everyone who entered!
Watch the full awards show up top on RTÉ Kids YouTube or catch it any time on RTÉ Player here.
Thanks to our friends at Fresh Film for teaming up with us again this year along with other key partners including Screen Ireland.
But first, here are all the winners from this clebration of movie magic…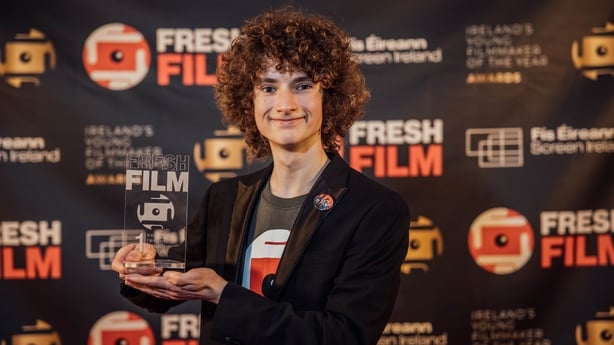 Winner – Irelands Young Filmmaker of the Year
Max's film, The Tell-Tale Heart, is a re-telling of the Edgar Allan Poe short story where a man is slowly driven mad by the pale blue eye of his older companion.
Hailing from Cabra, Max is no stranger to the awards having entered the globally renowned international event annually since the age of 12, scooping the Outstanding Animation award at Ireland's Junior Filmmaker of the Year in 2018..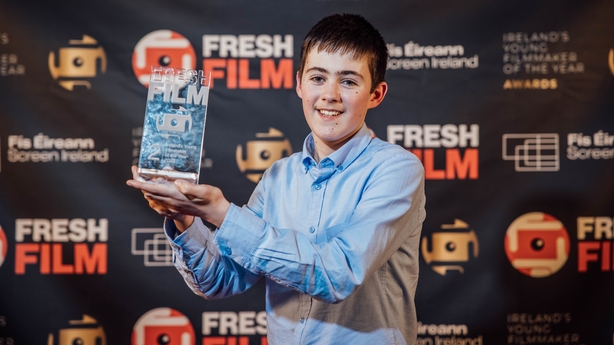 2nd place
Second place winner is 16-year-old Glen Bowler from County Kerry. Glen's short titled The Legend of Patrick Greenwood about a retired soldier turned gardener who considers what legacy he will leave behind. A period drama set in amazing locations with an environmental theme.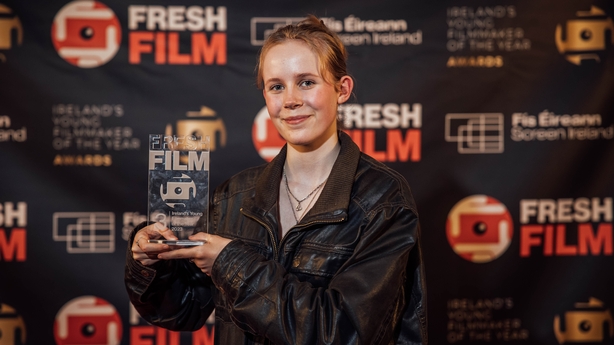 3rd place
Third place was awarded to cousins Ella and Caoimhe McGuigan (15 & 16) from Dublin for their film Sticky Note. A short film following the story of two teenage sisters and their dispute, one sister trying to re-establish their relationship and the other, who refuses to forgive.
All the winners are here…
RTÉ Factual
Buzz – Directed by Jamie Costello from Galway
RTÉ 60 SEC
A New Terrain – Directed by Killian Foley from Avondale Community College, Wicklow
Radharc
I'll Know – Directed by Rhianna Woods County Leitrim
Best Animation
Friends Forever – Directed by Tristan Seery from Westmeath
Best Art Direction
Doomed Choice – Directed by Luka Magot from Dublin
Best Director
Reprisal – Directed by Alanna C. Cusack from Cavan
Best Screenplay
Nellie – Directed by Malachaí Ó Ciardhubháin from Kerry
Best Performance
Shell – Eve Duffy from Dublin
Best Group
Killer Krush – Emerging Limerick Filmmakers Directed by Izzy Dalton
Best School
Vivamus, Moriendum Est – Avondale Community College, Wicklow Directed by Maria Nogales Cid
All 34 shortlisted films, made by young people, for young people, can be seen on the Fresh International Film Festival YouTube Channel.
Fresh International Film Festival and Ireland's Young Filmmaker of the Year Awards are made possible with the support, investment and partnership of RTÉ Young People's Department, The Arts Council, Screen Ireland, Coimisiún na Meán, Limerick City and County Council, the National Talent Academy for Animation, Limerick & Clare Education & Training Board, Take 2 Talent Management, The Radharc Trust, Magpie 6 Media and Fighting Words.