Ready or not, the future of transportation will be electrified.

The question before the House Sustainable Infrastructure Policy Committee on Wednesday was this – should the state play an active role in easing the transition from gas-powered to electric vehicles? Following a vigorous discussion, the committee answered yes, sending HF413 to the House Commerce Finance and Policy Committee on a split-voice vote.

"Electrification is well underway," said Rep. Zack Stephenson (DFL-Coon Rapids), the bill's sponsor. He noted that numerous automakers are phasing out gas-powered cars and demand for electric vehicles is skyrocketing among consumers.

But barriers to greater adoption of EVs remain. His proposal aims to smooth the road in a multitude of ways.

Primarily, the bill would appropriate $20 million to provide rebates for purchasers and lessees of new and used electric vehicles. These would amount to $2,500 and $500, respectively. Supplemental rebates would be available for lower-income consumers.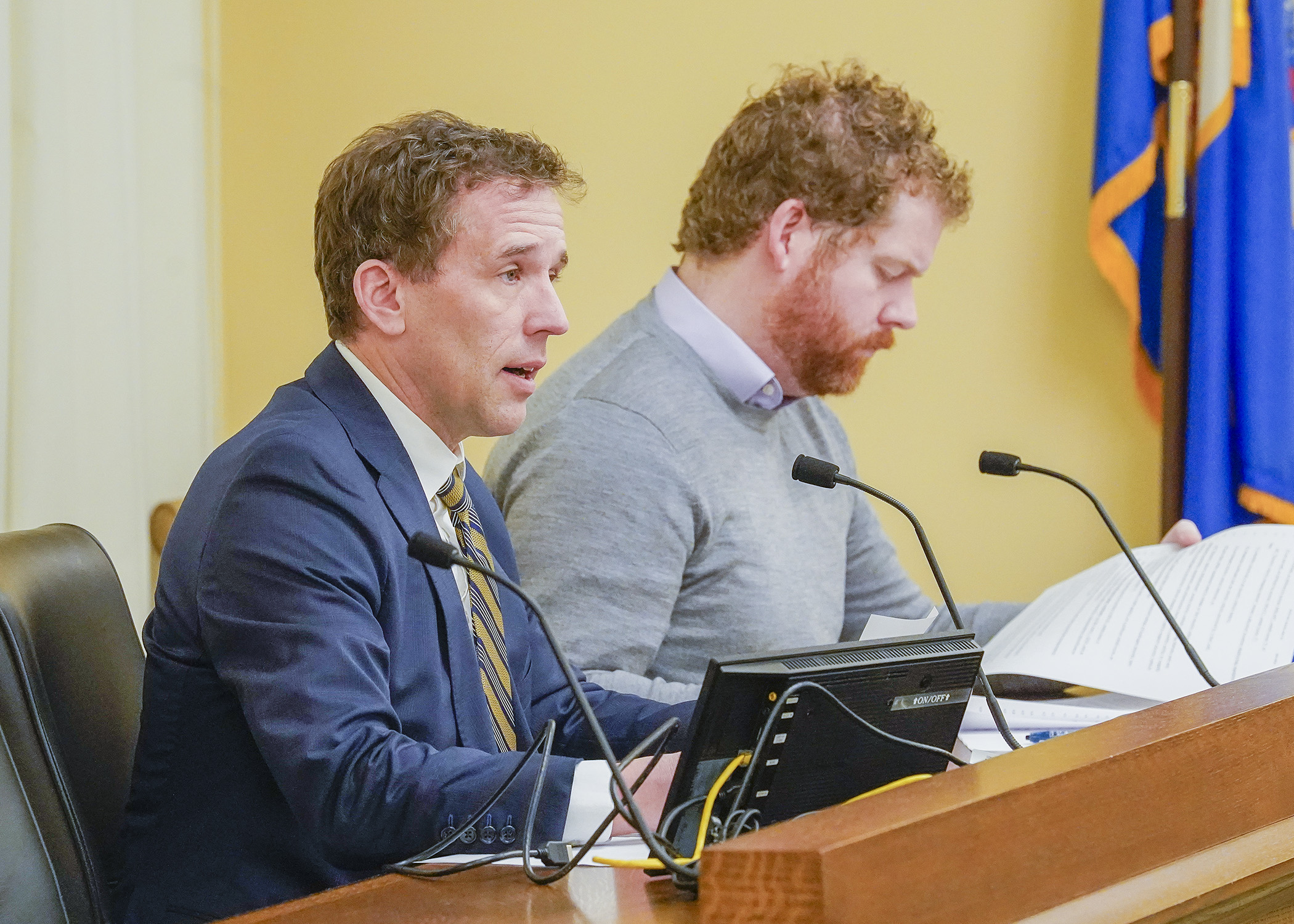 Jeremy Estenson testifies Jan. 25 before the House Sustainable Infrastructure Policy Committee on HF413, sponsored by Rep. Zack Stephenson, right. (Photo by Andrew VonBank)

Many car dealerships are currently ill-equipped to handle increasing electric vehicle demand, however. To remedy this, the bill would appropriate $4 million to establish grants, allowing auto dealers to offset certification and staff training costs.

Public utilities would be called on promote EV usage among their customers and make infrastructure investments through transportation electrification plans they would file with the Public Utilities Commission.

Stephenson also wants to spur state agencies in electrifying their fleets by establishing a hierarchy for future purchases. In order of preference, agencies would be mandated to acquire electric, hybrid, clean fuel, and as a last resort, gasoline-powered vehicles.

Following concerns raised by Rep. Spencer Igo (R-Grand Rapids) and Rep. Isaac Schultz (R-Elmdale Township), Stephenson assured the committee that exceptions are baked into the proposed legislation – emergency and law enforcement vehicles would not be covered by the mandate and no state employee would be forced to use a vehicle that would, for example, leave them stranded because the range of an electric vehicle could not cover their daily commute.

Representatives of the Minnesota Automobile Dealers Association and Xcel Energy both testified in support of the bill, claiming it would augment the capacities of auto dealers and public utilities to help proliferate electric vehicles throughout the state.

While agreeing that EVs are coming, Rep. Paul Anderson (R-Starbuck) believes there is still a need for vehicles powered by biofuels and gasoline, especially in "rural Minnesota in winter when it's 20 below zero." He offered an amendment to leave room for these vehicles in the state fleet, but it failed on a party-line roll call vote.

Two other amendments sponsored by Rep. Mary Franson (R-Alexandria) also failed on voice votes.