Olympia Fields, Ill. – When Christo Lamprecht made three birdies in his final five holes Saturday to finish off a 4-under-par 66, it gave him sole possession of the individual lead after 36 holes. But they wound up meaning victory for the Georgia Tech senior Sunday morning when the final round of the Olympia Fields Country Club/Fighting Illini Invitational was cancelled to due inclement weather.
With his 36-hole tournament-record score of 9-under-par 131, the George, South Africa native earned his second career collegiate victory by one stroke over North Carolina's Maxwell Ford, who led briefly on the back nine Saturday but took home runner-up honors with an 8-under-par total of 132.
A lighting delay Sunday morning and continuing rain that made the Olympia Fields North Course unplayable led to the cancellation of the final round, leaving the Yellow Jackets with a third-place finish at 3-under-par 557. Top-ranked North Carolina was declared the champion ay 10-under-par 560, with 11th-ranked Texas taking second place at 4-under-par 566.
Senior Bartley Forrester (Gainesville, Ga.) earned his seventh career top-10 finish, posting a 2-under-par total of 138 to tie for eighth place. Freshman Kale Fontenot (Lafayette, La.) took home a tie for 30th at 3-over-par 143 in his college debut, while senior Aidan Kramer (Oviedo, Fla.) tied for 42nd at 145 (+5). Freshman Carson Kim (Yorba Linda, Calif.) finished 80th at 157 (+17).
No. 2 Arizona State finished in fourth place at even-par 560, while No. 13 Alabama remained in fifth place at 561 (+1). No. 5 Florida State (+6), No. 19 Arizona (+8), Baylor (+8), No. 8 Florida (+9) and No. 9 Illinois (+10) round out the top 10 in the 15-team field.
Texas teammates Christiaan Maas (133, -7) and Jacob Sosa (135, -5) finished third and fourth, respectively, while Stanford's Karl Vilips and Pepperdine's Mananth Chirravurri tied for fifth place at 136 (-4). Florida State's Tyler Wheeler finished seventh alone at 137 (-3), while a group of five players tied for eighth at 138 (-2), including Forrester.
Tech returns to action Oct. 2-3 at the Ben Hogan Collegiate Invitational in Fort Worth, Texas.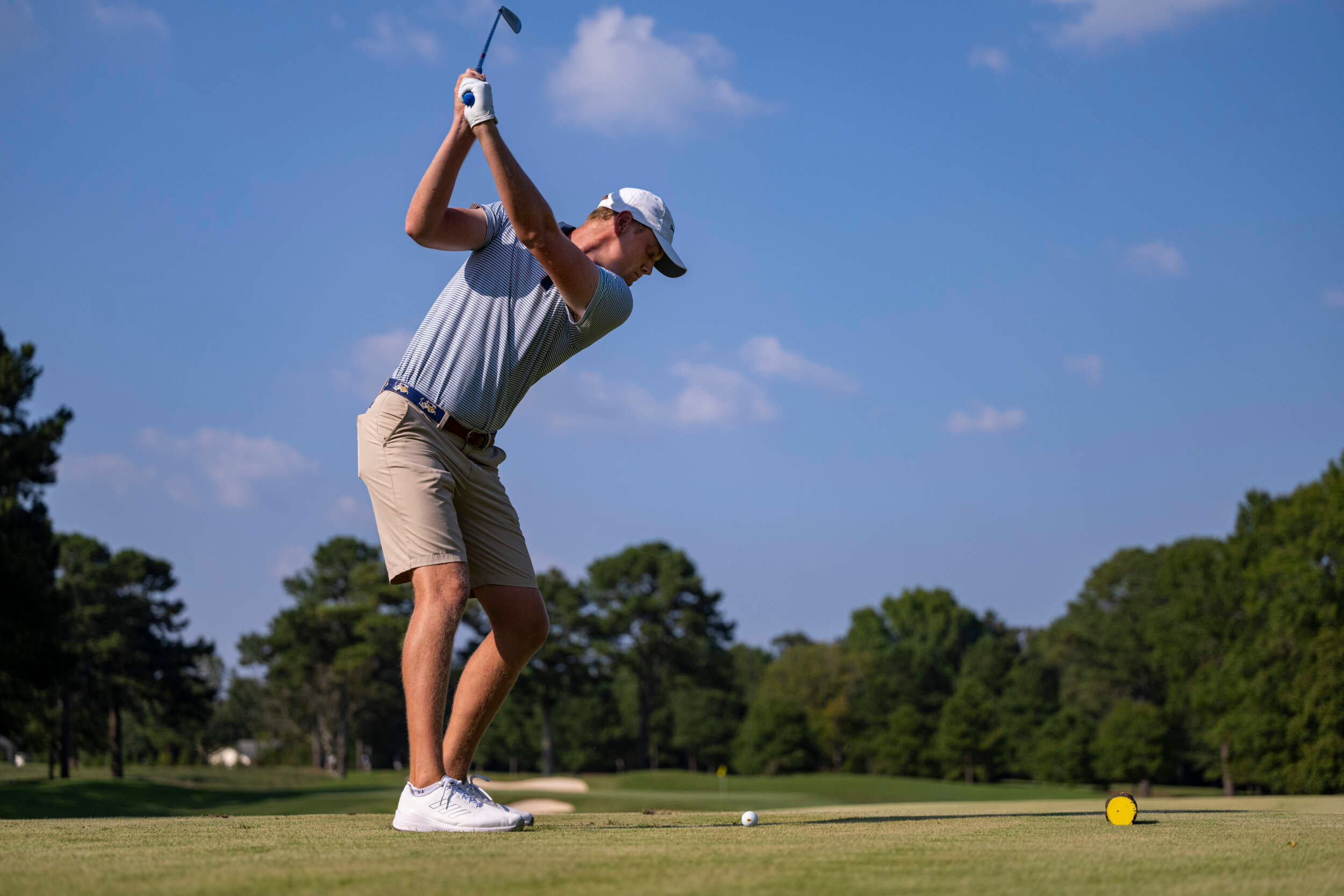 Bartley Forrester earned the seventh top-10 finish of his career. (photo by Eldon Lindsay)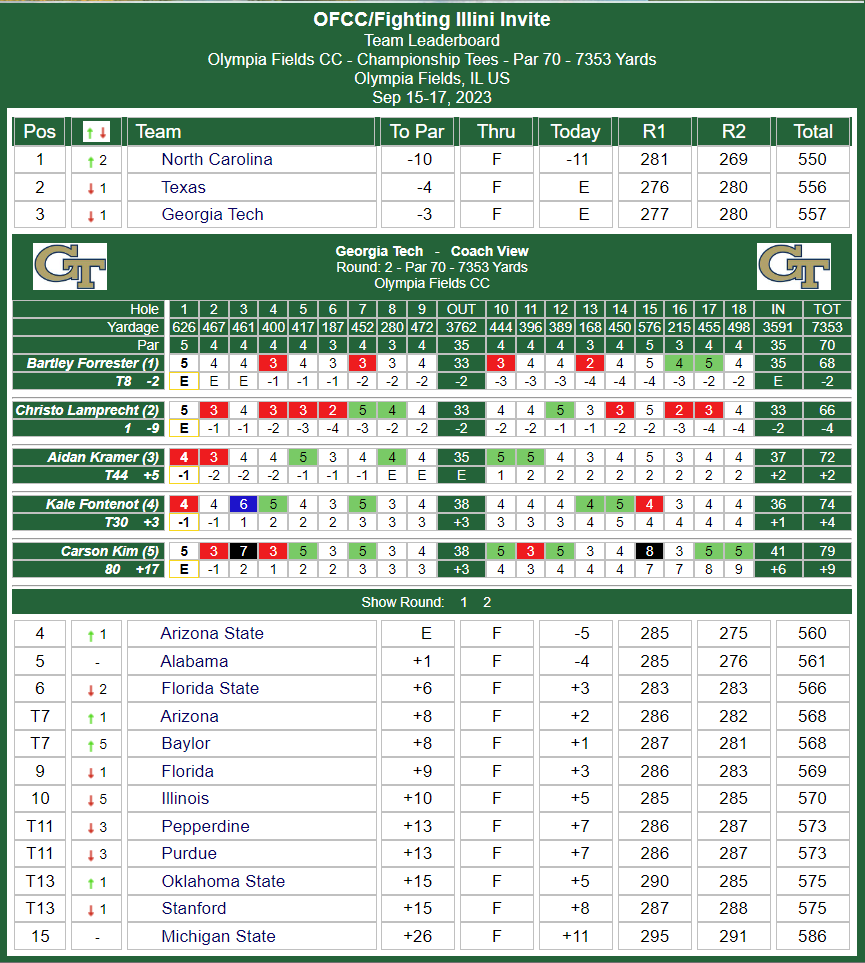 TOURNAMENT INFORMATION – The Yellow Jackets competed in the OFCC/Fighting Illini Invitational for the second time, having shared the 2019 title with Baylor. Illinois hosted the 15-team event, which was contested at Olympia Fields Country Club's North course, which plays to a par-70 and measures 7,310 yards.
Participating teams were Alabama, Arizona, Arizona State, Baylor, Florida, Florida State, Georgia Tech, Illinois, Michigan State, North Carolina, Oklahoma State, Pepperdine, Purdue, Stanford and Texas. Fourteen of the 15 teams are ranked or received votes in the first Golf Coaches Association of America poll. All 15 competed in 2023 NCAA regionals, 11 of the 15 advanced to the NCAA Championship, and seven of those reached match play (quarterfinalists Arizona State, Illinois, and Pepperdine; semifinalists Florida State and North Carolina; and finalists Florida and Georgia Tech).
---
Alexander-Tharpe Fund
The Alexander-Tharpe Fund is the fundraising arm of Georgia Tech athletics, providing scholarship, operations and facilities support for Georgia Tech's 400-plus student-athletes. Be a part of developing Georgia Tech's Everyday Champions and helping the Yellow Jackets compete for championships at the highest levels of college athletics by supporting the Annual Athletic Scholarship Fund, which directly provides scholarships for Georgia Tech student-athletes. To learn more about supporting the Yellow Jackets, visit atfund.org.
ABOUT GEORGIA TECH GOLF
Georgia Tech's golf team is in its 29th year under head coach Bruce Heppler, having won 72 tournaments in his tenure. The Yellow Jackets have won 19 Atlantic Coast Conference Championships, made 33 appearances in the NCAA Championship and been the national runner-up five times. Connect with Georgia Tech Golf on social media by liking their Facebook page, or following on Twitter (@GTGolf) and Instagram. For more information on Tech golf, visit Ramblinwreck.com.