Olympia Fields, Ill. – All-American Christo Lamprecht fired a 4-under-par 66 Saturday to take sole possession of the individual lead, while No. 4 Georgia Tech played an even-par round and sits in third place after 36 holes at the Olympia Fields/Fighting Illini Invitational.
After sharing the first-round lead Friday with a 5-under-par 65, Lamprecht set the tournament record for 36-hole score at 9-under-par 131 and leads the tournament by one stroke. The 6-foot-8 senior supplanted the 8-under-par mark of 132 set by Stanford's Maverick McNealy in 2015 and matched last year by Adrien Dumont de Chassart of Illinois. The winner of the Amateur Championship last summer, Lamprecht is looking for his second collegiate victory, the first coming last fall at the Inverness Intercollegiate.
Tech and 11th-ranked Texas, the opening round leader, both played level-par golf Saturday, but they dropped behind top-ranked North Carolina, who blistered the OFCC North Course with an 11-under-par round of 269, a tournament record, and opened a six-stroke lead after 36 holes.
Sunday's final round gets underway with a shotgun start at 9 a.m. Eastern time.
TECH LINEUP – After starting Saturday's round with four birdies in his first six holes, Lamprecht bogeyed three of his next six to fall behind briefly. The George, South Africa native finished with three birdies in his final six holes to retake the lead in the medal race. His 36-hole total of 132 is his best since opening the 2021 Maui Jim Invitational with scores of 65-63 (128).
Bartley Forrester moved into a tie for eighth place individually by carding a 2-under-par 68 Saturday. The Gainesville, Ga., senior played his first 15 holes bogey-free with four birdies before he bogeyed 16 and 17 coming in.
Tech's other counting scores Saturday came from senior Aidan Kramer (Oviedo, Fla.) with a 2-over-par 72 and freshman Kale Fontenot (Lafayette, La.), with a 4-over-par 74. Freshman Carson Kim (Yorba Linda, Fla.) did not factor for the second straight day with a 79.
Fontenot is tied for 30th place with a 36-hole total of 143 (+3), while Kramer is tied for 44th place at 145 (+5).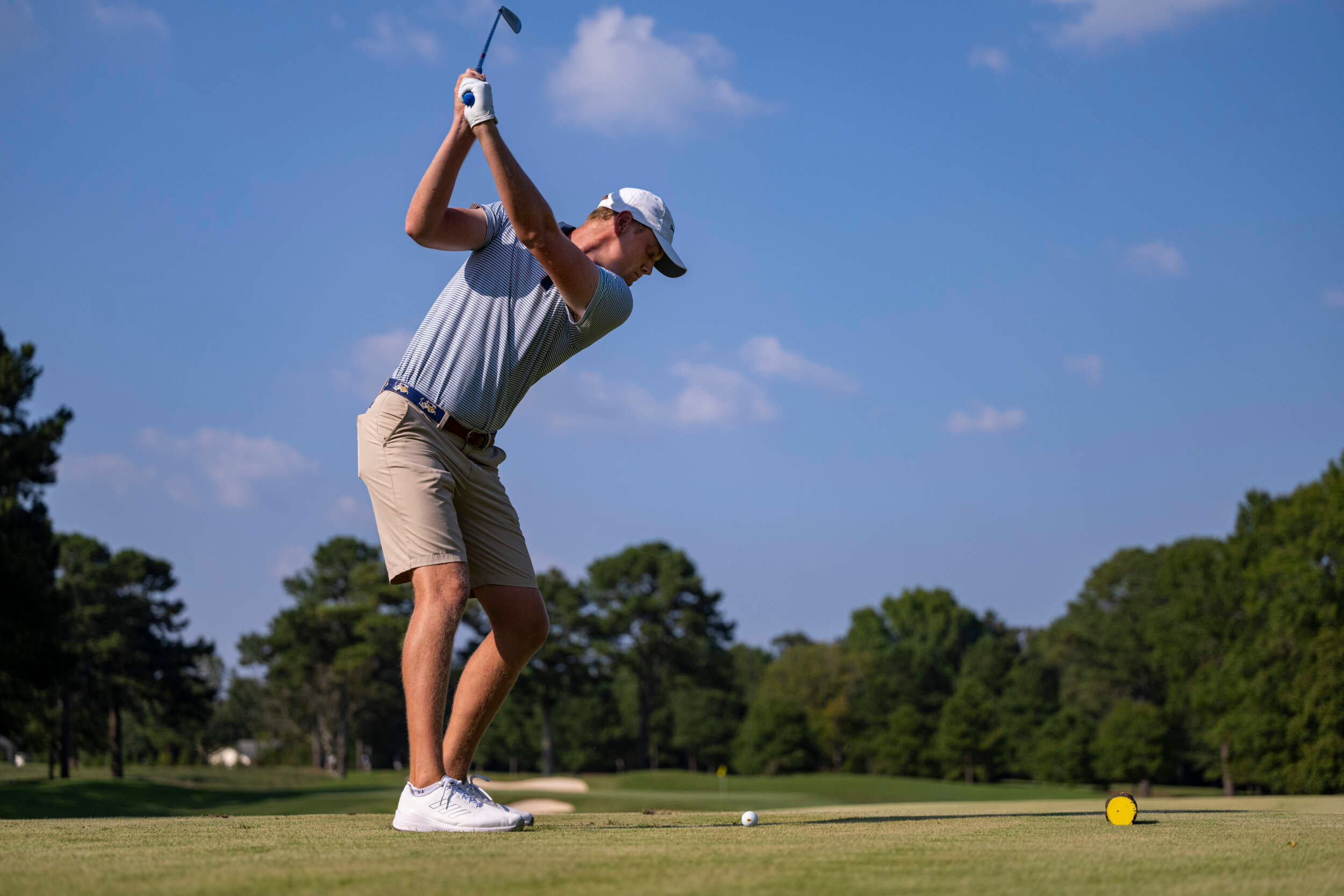 Bartley Forrester moved into the top-10 individually Saturday after firing a 2-under-par 68. (photo by Eldon Lindsay)
TEAM LEADERBOARD – Four Tar Heels broke par Saturday at Olympia Fields to lift top-ranked North Carolina, 11-under-par for the round, to the top of the leaderboard at 10-under-par 550, six shots ahead of Texas (556, -4) and seven ahead of Georgia Tech (557, -3). The Tar Heel's Saturday score of 269 and 36-hole total of 550 are both tournament records.
No. 2 Arizona State moved up to fourth place at even-par 560 after firing a 5-under-par 275 in Saturday's round, while No. 13 Alabama, with a 4-under-par 276 Saturday, remained in fifth place at 561 (+1).
No. 5 Florida State (+6), No. 19 Arizona (+8), Baylor (+8), No. 8 Florida (+9) and No. 9 Illinois (+10) round out the top 10 in the 15-team field.
INDIVIDUAL LEADERBOARD – Tech's Lamprecht, the 18-hole co-leader, took sole possession with four early birdies, but fell behind North Carolina's Maxwell Ford, who birdied 12-13-14-15 in succession on his way to a 5-under-par 65. The Tech senior birdied three of his last five to post a 66 and regain his lead by one shot over Ford at the end of the day.
Lamprecht has a tournament-record 36-hole total of 131 (-9), one stroke clear of Ford (8-under-par 132).
Texas teammates Christian Maas (133, -7) and Jacob Sosa (135, -5) hold third and fourth places, while first-round co-leader Karl Vilips and Pepperdine's Mananth Chirravurri are tied for fifth place at 136 (-4). Florida State's Tyler Wheeler is in seventh place along at 137 (-3), while the Yellow Jackets' Forrester is in a group of five players tied for eighth at 138 (-2).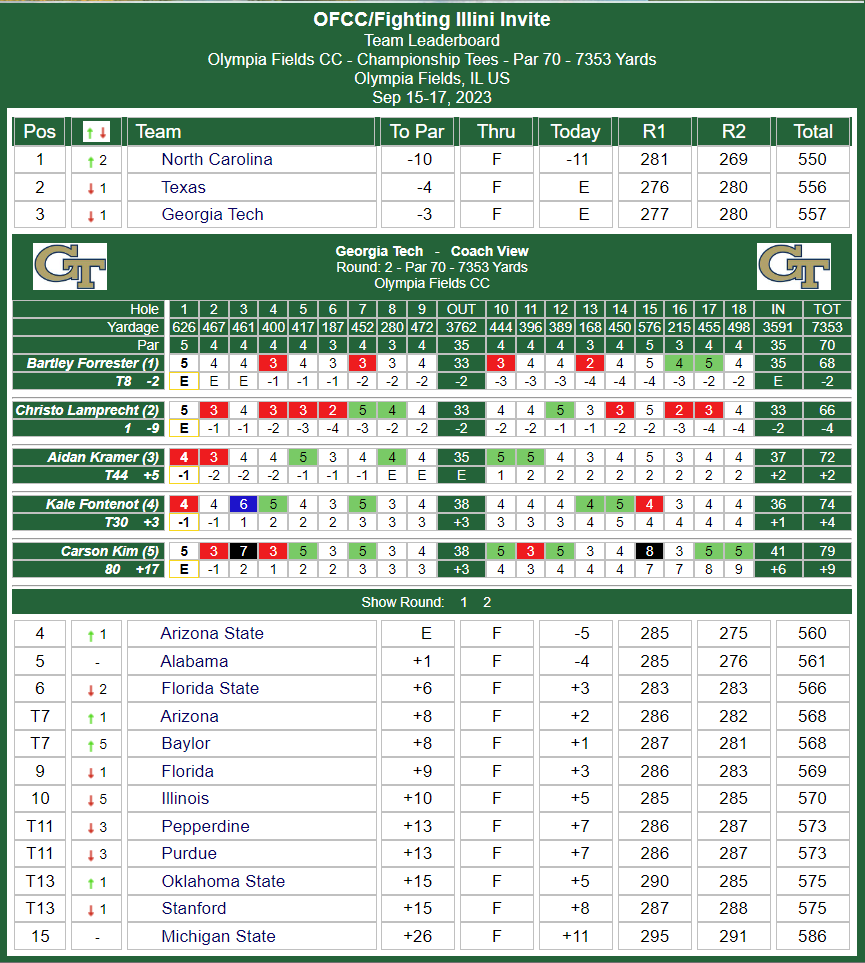 TOURNAMENT INFORMATION – The Yellow Jackets are competing in the OFCC/Fighting Illini Invitational for the second time, having shared the 2019 title with Baylor. Illinois hosts the 15-team event, which is contested over 54 holes beginning Friday and concluding Sunday at Olympia Fields Country Club's North course, which plays to a par-70 and measures 7,310 yards.
Participating teams include Alabama, Arizona, Arizona State, Baylor, Florida, Florida State, Georgia Tech, Illinois, Michigan State, North Carolina, Oklahoma State, Pepperdine, Purdue, Stanford and Texas. Fourteen of the 15 teams are ranked or received votes in the first Golf Coaches Association of America poll. All 15 competed in 2023 NCAA regionals, 11 of the 15 advanced to the NCAA Championship, and seven of those reached match play (quarterfinalists Arizona State, Illinois, and Pepperdine; semifinalists Florida State and North Carolina; and finalists Florida and Georgia Tech).
---
Alexander-Tharpe Fund
The Alexander-Tharpe Fund is the fundraising arm of Georgia Tech athletics, providing scholarship, operations and facilities support for Georgia Tech's 400-plus student-athletes. Be a part of developing Georgia Tech's Everyday Champions and helping the Yellow Jackets compete for championships at the highest levels of college athletics by supporting the Annual Athletic Scholarship Fund, which directly provides scholarships for Georgia Tech student-athletes. To learn more about supporting the Yellow Jackets, visit atfund.org.
ABOUT GEORGIA TECH GOLF
Georgia Tech's golf team is in its 29th year under head coach Bruce Heppler, having won 72 tournaments in his tenure. The Yellow Jackets have won 19 Atlantic Coast Conference Championships, made 33 appearances in the NCAA Championship and been the national runner-up five times. Connect with Georgia Tech Golf on social media by liking their Facebook page, or following on Twitter (@GTGolf) and Instagram. For more information on Tech golf, visit Ramblinwreck.com.