"Homophobic and transphobic vitriol spewed online has spilled over into real life, as armed hate groups intimidate people at Pride marches and drag performances, and threaten doctors' offices and children's hospitals that offer care to the LGBTQI+ community. Our hearts are heavy with grief for the loved ones we have lost to anti-LGBTQI+ violence."
Loading
It was a message of despair from a president who, only a few months ago, stood on the South Lawn of the White House to sign the Respect for Marriage Act, ensuring same-sex and interracial couples in America had the same legal protections as other married couples.
However, with the fight for marriage equality having been fought and won, transgender issues have become the galvanising force for some conservative politicians, parents and right-wing extremists who seem determined to wind back the advances made. Some have gone so far as to call for the eradication of the trans community altogether.
"There can be no middle way," conservative commentator Michael Knowles told the Conservative Political Action Conference in March, an event at which Donald Trump was headline speaker. "Transgenderism must be eradicated from public life entirely."
The past few weeks also provide a cautionary tale. Pride Month has long afforded companies the opportunity to tap into the buying power of the so-called "pink dollar", albeit with some opposition – including within the LGBTQ community itself.
However, the "Go Woke, Go Broke" rallying cry of the political right went into overdrive last month, when Target had to pull a number of items from its "Pride Collection" off shelves following threats from store visitors across the country, and safety concerns among staff.
Items that triggered rage for some customers included a one-piece, "tuck-friendly" swimsuit – a bathing suit that has extra material for the crotch area, allowing trans women who have not had gender-affirming surgery to conceal genitalia. It didn't matter that the swimsuit was available in adult sizes only; social media users claimed it was being sold to children or came in kids' sizes. Soon enough, the damage was done.
Target's stock lost $13.8 billion in two weeks, and shares of the chain dropped for eight straight sessions – the company's longest losing streak since November 2018.
"The goal is to make 'pride' toxic for brands," right-wing commentator Matt Walsh said on Twitter. "If they decide to shove this garbage in our face, they should know that they'll pay a price. It won't be worth whatever they think they'll gain."
Target was just the latest in a line of businesses to feel a backlash for promoting the LGBTQ community ahead of this month's festivities. Last week, the Los Angeles Dodgers were bullied into dis-inviting a drag charity group, the Sisters of Perpetual Indulgence, from a Pride Month awards ceremony. Members of Congress had also unsuccessfully called for a boycott of outdoor retailer North Face after it featured a drag queen in its "Summer of Pride" campaign, which promotes outdoor events taking place across the US.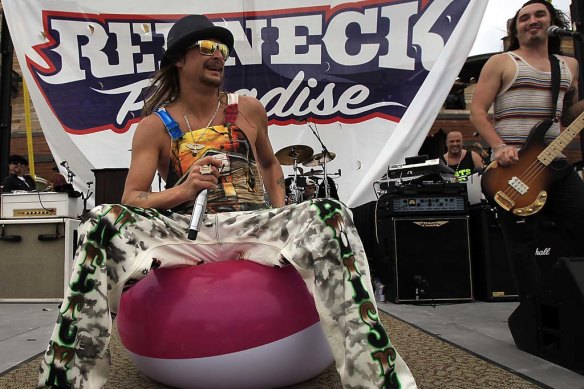 Then there was Bud Lite, whose parent company Anheuser-Busch InBev lost $US27 billion in market value following its ill-fated partnership with transgender TikTok star Dylan Mulvaney. MAGA-loving country musician Kid Rock was particularly aggrieved, posting a violent video of himself using a machine gun to destroy cases of the beer, before declaring: "F— Bud Light and f— Anheuser-Busch! Have a terrific day."
Sarah Kate Ellis, president of GLAAD, the world's largest LGBTQ media advocacy organisation, said many US companies had sought to give the gay community greater visibility for decades. As such, she said, businesses shouldn't succumb to the bullying of a "small group of extremists".
Loading
Nonetheless, the backlash against Target and its staff "should be a wake-up call for consumers" and was "a reminder that LGBTQ people, venues and events are being attacked with threats and violence like never before".
With less than 18 months until the next election, many are now bracing themselves for things to get uglier – and not just in corporate pushback terms.
According to the Human Rights Campaign, which is the largest LGBTQ civil rights organisation, more than 520 anti-LGBTQ bills have been introduced this year alone – from attempts to block trans participation in sports to preventing people from using public bathrooms consistent with their gender identity. Of those bills, 74 have been enacted into law.
Among the latest is a bill that was signed by Florida a few weeks ago by Governor Ron DeSantis, Trump's biggest rival for the Republican presidential nomination, which banned gender-affirming care for minors. Notably, the pair have spent the past week sparring in the early voting state of Iowa in a bid to woo evangelical voters.
"It's kind of sad that we even have some of these discussions," DeSantis said as he signed the bill at a Floridian Christian assembly last month, standing behind a lectern with a sign that said "Let Kids Be Kids".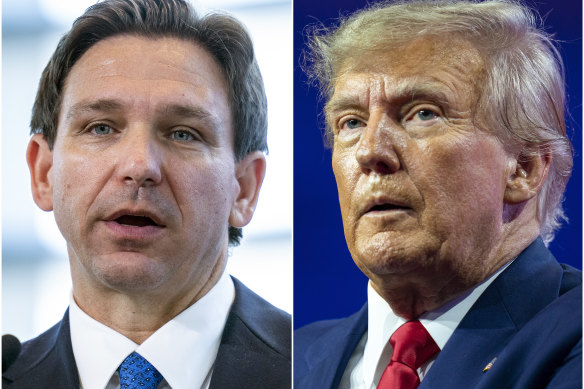 DeSantis' bill is one of many that have been put forward by Republicans to cut transgender youth access to what advocates describe as "age-appropriate, medically necessary" healthcare. Such treatment, which has been provided in the US for more than a decade, usually involves hormone blockers to treat gender dysphoria, with surgery generally reserved for those 18 years or older.
Indeed, the Human Rights Campaign says it's now tracking more than 125 gender-affirming care bans. There are also more than 100 anti-LGBTQ+ curriculum censorship bills, inspired in part by DeSantis' so-called "Don't Say Gay" laws, banning classroom instruction on sexual orientation and gender identity from kindergarten to the third grade in Florida. The group is also tracking 45 bills that seek to restrict drag performances, following in the footsteps of Tennessee's restrictions earlier this year.
There have, however, been positive gains. The bipartisan Respect for Marriage Act that Biden enshrined into law in March was the biggest legislative win in the fight for LGBTQ+ equality in years, guaranteeing federal rights, benefits and obligations of marriages in the federal code for same-sex couples.
And on Friday night, a federal US judge ruled that Tennessee legislation restricting drag queen performance – the first in the nation – was unconstitutional.
"This is a moment of crisis for our community and our country," said Human Rights Campaign president Kelley Robinson of the current LGBTQ landscape in America.
"But with crisis always comes reckoning – and with reckoning comes the opportunity for bold and transformative change."
Get a note directly from our foreign correspondents on what's making headlines around the world. Sign up for the weekly What in the World newsletter here.