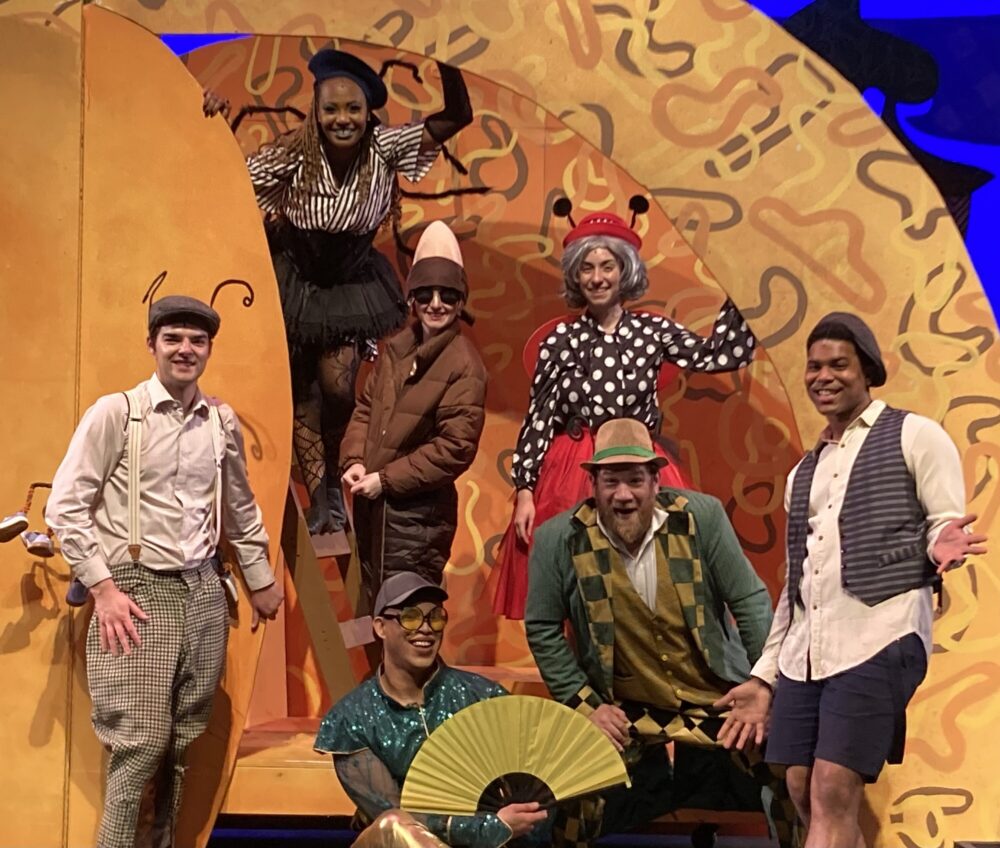 Nine schools in the Houston area have scrapped planned field trips to watch performances of "James and the Giant Peach" at Main Street Theater, which is attributing the cancellations to overblown and misinformed concerns about cross-gender casting for the famed children's story.
Rebecca Udden, the executive artistic director for the 43-year-old nonprofit theater with two locations in Houston, said schools from Spring Branch ISD as well as local religious schools are among those to have cancelled their upcoming visits to Midtown Arts & Theater Center Houston, which is hosting three productions per weekday of "James and the Giant Peach" through May 19. She said schools from Spring Branch ISD already have made field trips to see the show, which started its seasonal run on April 19, with the district saying in a statement Thursday that its pending visits were being cancelled "due to concerns raised about the age-appropriateness of the performance."
Udden said those concerns are "completely ridiculous" and appear to stem from a series of recent Instagram posts implying that one of the characters would be dressed in drag and that school students' parents were not allowed to accompany them to the performances. Udden said parents are welcome to attend if they obtain tickets through school groups but cannot purchase tickets for those children's shows individually, for security reasons, and also said, "We do not do drag in our theater for youth."
Fewer than eight actors portray a total of 20 characters in "James and the Giant Peach," according to Udden, who said some play both male and female roles. Cross-gender casting is a common, longstanding practice at both Main Street Theater and in theater in general, she said.
"Except for a few characters in the show, they're all insects for heaven's sake. They're not even people," Udden said. "Every theater in the world has men playing women and women playing men. It's just part of the tradition. This is certainly blown out of context."
The Instagram posts Udden referred to are from an account called Houston Kids First, which has expressed criticism of the local "James and the Giant Peach" performances and of efforts in schools to be inclusive of LGBTQIA+ students and community members. The account replied to a message seeking comment Thursday by providing contact information for a Spring Branch ISD parent, who did not immediately respond to a voicemail seeking comment.
A recent post on the account shows a photo of a Main Street Theater actor appearing in drag under the title, "judyandthegiantpeach." Udden said that photo is from 2018 and is unrelated to the theater's performances of "James and the Giant Peach."
"I guess if you just don't think about it, you could jump to that conclusion," Udden said. "We're really sorry that these people have made such an issue out of this, because it's a delightful show. We're performing it to 300 kids three times a day, and they're loving it."
"James and the Giant Peach" is a 1961 novel by British author Roald Dahl that was adapted into a film by the same name in 1996. The 7-year-old protagonist is orphaned when his parents are killed by a rhinoceros, and he is forced to live with two aunts who are abusive. He escapes through a giant, magical peach where he befriends a series of insects, and the boy's aunts are at one point crushed to death by the peach.
Udden acknowledged that it's a "crazy story" with a lot of "dark stuff," but that it is presented in a way that is appropriate for young children. She also said the "James and the Giant Peach" performances at Main Street Theater are not at all sexualized.
Udden added that the string of school cancellations does not figure to negatively impact the theater, saying, "Nobody has asked for their money back." But she is concerned for the safety of the actors amidst the backlash.
"People pick things up and love to spread hate," Udden said.