House Republicans are planning to vote as soon as Thursday to oust Rep. Ilhan Omar, D-Minn., from the Foreign Affairs Committee over what they say are her anti-Semitic remarks in the past — marking an escalation in a long-running battle between the parties over committee assignments. 
Speaker Kevin McCarthy and his leadership team had seen a handful of GOP defections that threatened to derail their push to remove Omar, given their razor-thin majority.
But on Tuesday one of the vocal defectors, Rep. Victoria Spartz, R-Ind., flipped her vote to yes after meeting with McCarthy and securing language in the Omar resolution that would give lawmakers a chance to appeal removal from committees.
"People have to be able to appeal procedures, have rights to defend themselves. … Otherwise we will turn into a tyranny of the majority," Spartz said in an interview.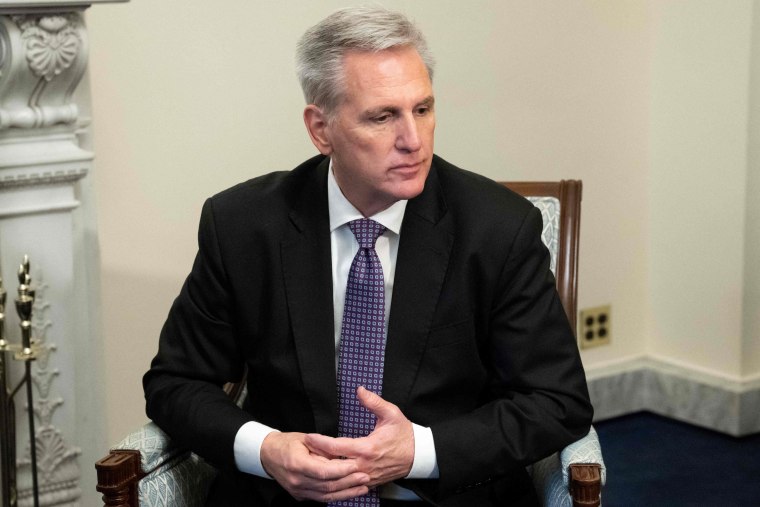 Both McCarthy and Majority Leader Steve Scalise, R-La., said they were confident they had the votes to oust Omar, even as two Republicans — Reps. Nancy Mace of South Carolina and Ken Buck of Colorado — said taking such action was inappropriate and that they would vote no.
Republicans on Tuesday night teed up a vote, with the Rules Committee voting 9 to 4 along party lines to send the resolution to remove Omar to the House floor. The House will vote Wednesday on the rule for the resolution and is expected to vote Thursday on the resolution itself.
Omar, a Somali refugee and one of the first two Muslim American women to serve in Congress, has been a fierce critic of Israel and Jewish lobbying groups. The four-page resolution details specific remarks Omar made in 2019, when she tweeted that the American Israel Public Affairs Committee and other Jewish donors were paying politicians to back Israel, saying: ''It's all about the Benjamins baby."
Democratic leadership issued a statement denouncing her comments, and then-Foreign Affairs Chairman Eliot Engel, D-N.Y., said Omar had invoked "a vile anti-Semitic slur." Omar apologized, but other remarks she's made about Israel since then has also infuriated some in her party. 
The resolution, introduced by freshman Rep. Max Miller, R-Ohio, a former Trump White House aide who is Jewish, states: "Congresswoman Omar clearly cannot be an objective decision-maker on the Foreign Affairs Committee given her biases against Israel and against the Jewish people."
But Omar, a member of "the Squad" of progressive women of color, is not backing down.
"There is nothing objectively true in this resolution. It's all perceived and filled with pretext," Omar fired back in a tweet. "Also, if not being objective is a reason to not serve on committees, no one would be on committees. We vote our districts. This censorship really underscores their true intentions."
The vote to oust Omar marks just the latest development in a tit-for-tat between Democrats and Republicans over committee assignments. 
It started in 2021, when House Democrats and 11 Republicans voted to boot far-right Rep. Marjorie Taylor Greene, R-Ga., from two committees for past social media posts that spread dangerous and racist conspiracy theories. Democrats called the vote after GOP leaders declined to take action against her. 
Months later, Democrats moved to censure and oust Rep. Paul Gosar, R-Ariz., from his two committees after he tweeted an animated video depicting him killing Rep. Alexandria Ocasio-Cortez, D-N.Y., and attacking President Joe Biden.
GOP leaders cried foul, complaining that Democrats had set a precedent they would soon regret. When Republicans took back control of the House in January, they moved to reinstate Greene and Gosar on their committees. 
McCarthy also blocked two of Minority Leader Hakeem Jeffries's picks for the Intelligence Committee — former Chairman Adam Schiff and Rep. Eric Swalwell, both California Democrats — who played key roles in the Trump impeachment proceedings. 
At the same time, Republicans handed two committee assignments to embattled freshman Rep. George Santos, R-N.Y., who is facing numerous investigations and calls from his own party to resign after admitting to fabricating and embellishing parts of his resume and biography.
But on Tuesday, Santos told colleagues he would recuse himself from serving on committees until the investigations are resolved so that he wouldn't be a distraction to his party.
Pressed about the Omar matter, McCarthy said Tuesday that he had no problem with Democrats appointing her to other panels that don't deal with foreign policy.
"I just think she can serve on other committees," McCarthy said. "It would be best if the Democrats didn't put her in the position of foreign affairs."
Haley Talbot, Kyle Stewart and Garrett Haake contributed.