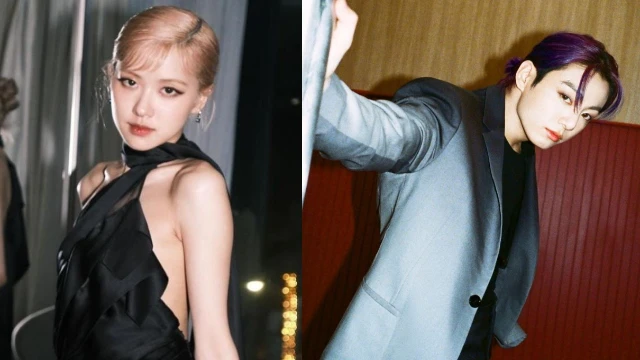 Rosé and Jungkook; Picture: Courtesy of Rosé's Instagram and BIGHIT MUSIC
The realm of K-entertainment is abuzz with fresh updates and announcements, and this week is certainly no exception. From BLACKPINK's Rosé making waves at Cannes to the alleged date of BTS' V and BLACKPINK's Jennie, and BTS' Jungkook facing death threats, there's been a flurry of newsmakers. Additionally, with Stray Kids' Bang Chan offering an apology, and Song Hye Kyo's and Han So Hee's role withdrawals, the Hallyu scene is brimming with noteworthy happenings. Here are the top highlights of the week.
BLACKPINK's Rosé shines at Cannes: A fashionable affair
BLACKPINK's Rosé took the world by storm with her breathtaking appearance at the prestigious Cannes Film Festival. The K-pop star turned heads on the red carpet with her stunning fashion choices and undeniable charisma.
BTS' V and BLACKPINK's Jennie's alleged date
Speculation and excitement filled the air as rumors emerged of an alleged date between BTS' V and BLACKPINK's Jennie. Fans were left buzzing with anticipation after the two idols were allegedly spotted together walking hand in hand. Are they really a couple? HYBE and YG Entertainment briefly commented on the matter.
BTS' Jungkook faces death threats: ARMYs demand better protection
BTS member Jungkook recently became the target of severe death threats, leading fans to express concern and call for better protection and stricter action from BTS's agency, HYBE. The threats against Jungkook were made on social media platforms, prompting fans, known as ARMYs, to rally together and demand increased security measures for the idol. They expressed their worries about the safety and well-being of Jungkook, emphasizing the need for immediate action to address the issue of online harassment. Fans urged HYBE to take these threats seriously and ensure the protection of their beloved artist.
Stray Kids' Bang Chan apologises for comments about Music Bank
Stray Kids' Bang Chan recently issued an apology after facing backlash for his comments about Music Bank in Paris. The idol made a statement during a live broadcast, expressing his disappointment about not being able to perform in Paris for Music Bank. However, fans quickly clarified that Bang Chan's comments were taken out of context, as he was referring to the show as a whole and not specifically about the Paris event. Recognizing the misunderstanding, Bang Chan took to social media to apologize for any confusion caused and expressed his gratitude for the love and support from fans.
Song Hye Kyo and Han So Hee pull out of The Price of Confession
Actresses Song Hye-kyo and Han So-hee have reportedly withdrawn from the highly anticipated drama series "The Price of Confession." The sudden decision has left fans wondering what led to their departure. The drama, which was highly anticipated due to the star-studded cast, will now undergo significant changes as the two leading actresses have pulled out. The exact reasons behind their exits have not been revealed, leading to speculation and curiosity among fans. The production team is expected to make an official statement regarding the casting changes in the near future.
Stay updated with the latest Hallyu news on Instagram, YouTube, Twitter, Facebook, and Snapchat