Disney Teases Upcoming Star Wars and Marvel Shows at Disney Upfront 2023 Event
By Chris Boylan
Disney's "Upfront" event is designed to build excitement in the various Disney TV properties so that prospective advertisers will see the value of advertising with the House of Mouse. Disney Up Front 2023 was held this week at the Javits Convention Center on the west side of Manhattan. It featured presentations from TV and movie industry stars and executives, sports legends, and even a couple of Kardashians to highlight what's coming from Disney's media properties for the rest of this year and beyond. A crowd of over 3,700 attendees filled the room including Disney employees, partners, prospective advertisers and noted media guests such as yours truly.
Rita Ferro, president of Advertising, Disney, opened the show with a reminder that "Storytelling is what distinguishes Disney. We've been cultivating it for a century. In this area of great change, creativity and innovation continue to be the cornerstone of all we do at Disney." After touting Disney's "unprecedented scale," Ferro reinforced the company's call to action for industry partners to increase their investments and intentionality around diversity and inclusion. She also announced that the company would include programmatic advertising (AI-based ad targetting to deliver the right message to the right audience) as a core part of each and every Upfront advertising deal.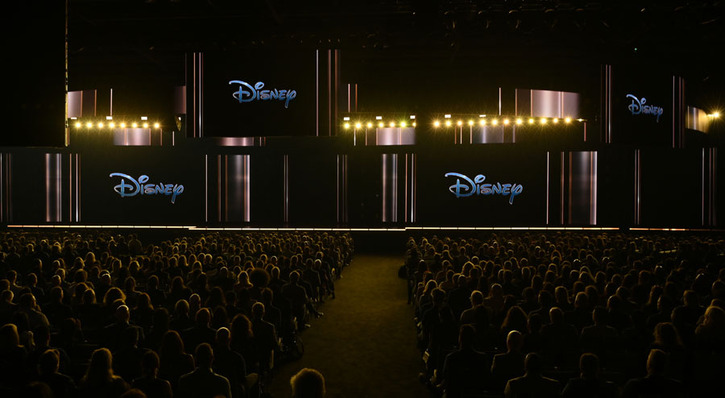 The lights dim as Disney execs prepare to take the stage at Disney Upfront 2023 at the Javits Convention Center in Manhattan, May 16, 2023. Image courtesy of The Walt Disney Company.
The Walt Disney Company currently owns or operates several streaming services and channels, including Disney+, ESPN, FX and Hulu. The Studio also owns Lucasfilm, Marvel Studios and Pixar, so they've got a lot going on right now. The Hulu highlights included an announcement of a sixth and final season of the dystopian alternate history "The Handmaid's Tale." FX announced an upcoming new miniseries "Shogun" based on the James Clavell novel. This was accompanied by a troupe decked out in 16th century Japanese warrior costumes staging a "dramatic" battle on stage. Peyton Manning was there to tout his continuing live series on ESPN2 "Monday Night Football with Peyton and Eli Manning" and to announce his return to hosting the 2023 Country Music Awards (CMA) with co-host Luke Bryan. Even Serena Williams took the stage sporting her new baby bump and promoting an upcoming docuseries on ESPN: "In the Arena: Serena Williams."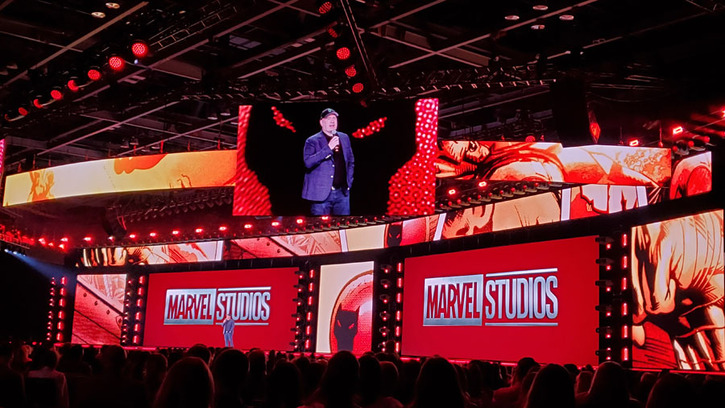 Marvel Studios chief Kevin Feige announces what's on deck for the studio in 2023.
The highlight of the show (IMHO, of course) was the sneak peeks we got to see of upcoming or continuing Marvel and "Star Wars" series on Disney+. Kevin Feige, producer and president of Marvel Studios and Chief Creative Officer, Marvel, took center stage to reveal a look at three upcoming Marvel shows for Disney+. This included a sneak preview of "Secret Invasion," starring Samuel L. Jackson as Nick Fury, in advance of the June 21 debut of the series. Feige also announced the Oct. 6 premiere date and introduced a special look at season 2 of "Loki," starring Tom Hiddleston. Yes, (spoiler alert!), we all know Loki died in one of the Marvel movies. But with the whole multiverse, time travel and alternative realities, when has that ever kept a good character down? Apparently "Loki" will be the first Marvel series on Disney+ to get a second season. (Sorry, "She-Hulk" fans, but that just ain't happening).
Feige also showed a montage from the upcoming series "Echo." It's an origin story featuring Marvel's first native American hero (or heroine as is the case here). Echo made her first appearance in the MCU in Jeremy Renner's "Hawkeye" series on Disney+. In a first for Marvel (or Disney+) all episodes of "Echo" will drop simultaneously on November 29, 2023.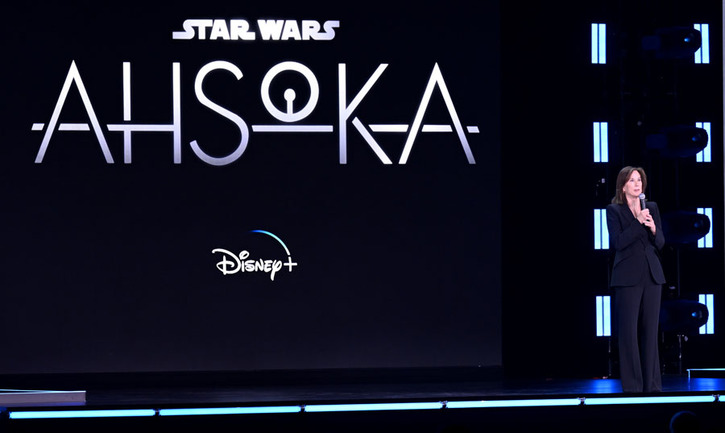 Lucasfilm head Kathleen Kennedy showed off teasers and trailers for upcoming "Star Wars" shows. Image courtesy of The Walt Disney Company.
On the "Star Wars" side, Lucasfilm president Kathleen Kennedy highlighted early looks at three upcoming shows: "Ahsoka," "Skeleton Crew" and "The Acolyte." Jedi knight Ahsoka Tano (played by Rosaria Dawson) first appeared in the animated series "Star Wars: The Clone Wars" as Anakin Skywalker's padawan apprentice. The character had a live action cameo in season 2 of "The Mandalorean." Fans went wild and pleaded for a spin-off. They'll get their wish this year with "Ahsoka" Episode 1 scheduled to debut August 31 on Disney+.
"Star Wars: Skeleton Crew" is also expected to begin streaming in 2023 though no date has been announced. This series will feature four kids of various species getting lost in the galaxy, trying to find their way home. The story, which echoes Amblin coming-of-age tales like "ET," "The Goonies" and "Super 8" features Jude Law's first appearance in the "Star Wars" universe as a mysterious figure (likely a Jedi). "Skeleton Crew" is set in the New Republic era – that's after "Return of the Jedi" but before "The Force Awakens." This is the same timeline as "The Mandalorian" and "Ahsoka" so don't be surprised if there are some crossover character appearances. Jon Favreau, one of the creators and driving forces behind "The Mandalorian" and "Ahsoka" is also an Executive Producer on "Skeleton Crew."
Before she left the stage, Kennedy also announced that the entire "Indiana Jones" film and TV series will be streaming on Disney+ on May 31. All four feature films plus "The Young Indiana Jones Chronicles" will be available so fans can prepare for the theatrical release of the fifth film, "Indiana Jones and the Dial of Destiny," in June. The four feature films were recently remastered in 4K resolution with a new Dolby Atmos immersive soundtrack, so they should look (and sound) pretty spectacular.
Some time next year (2024), we should expect "The Acolyte." It's a darker, more mysterious take on the "Star Wars" universe, set in the twilight years of the High Republic, but still a hundred years or more before "Star Wars: Episode One: The Phantom Menace." Taken from the point of view of a Sith Lord's apprentice ("we're not evil, we're just misunderstood!"), "The Acolyte" may examine flaws of the great Republic and even the revered Jedi order itself. It will star Amandla Stenberg ("The Hunger Games"), Lee Jung-Jae ("Squid Game") and Carrie Anne Moss, best known for her role as Trinity in "The Matrix" film series.
In a prerecorded greeting, Pixar's Chief Creative Officer Pete Docter offered a first look at "Win or Lose," the studio's first official longform episodic series for Disney+. The series follows the intertwined stories of different characters as they each prepare for a big championship softball game.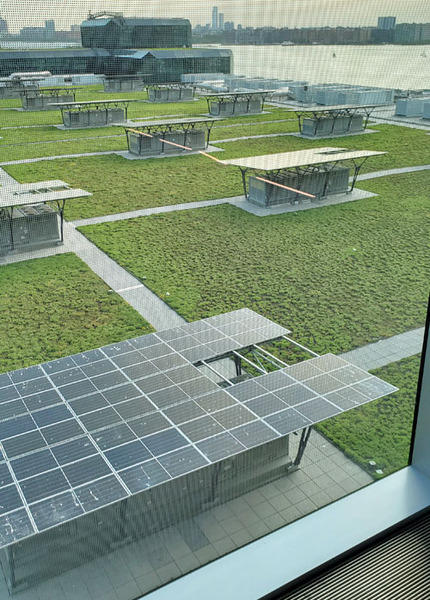 Who knew that the roof of the Javits Convention Center is covered in grass and solar panels? Green and greener.
American Idol's Ryan Seacrest also took the stage to discuss some upcoming series and renewals including a sneak preview of two of Disney's biggest TV franchises: the new season of the critically acclaimed original FX series "The Bear," which is returning June 22 for season two exclusively on Hulu; and one of Hulu's biggest and best reviewed shows, the comedy/mystery "Only Murders in the Building." OMitB returns for season three on Aug. 8 with Paul Rudd and Meryl Streep joining the cast. Seacrest also presented a first look at Hulu's "Black Cake," a family drama wrapped in a murder mystery, based on Charmaine Wilkerson's New York Times bestselling novel of the same name. The series is produced by Oprah Winfrey's Harpo Films production company.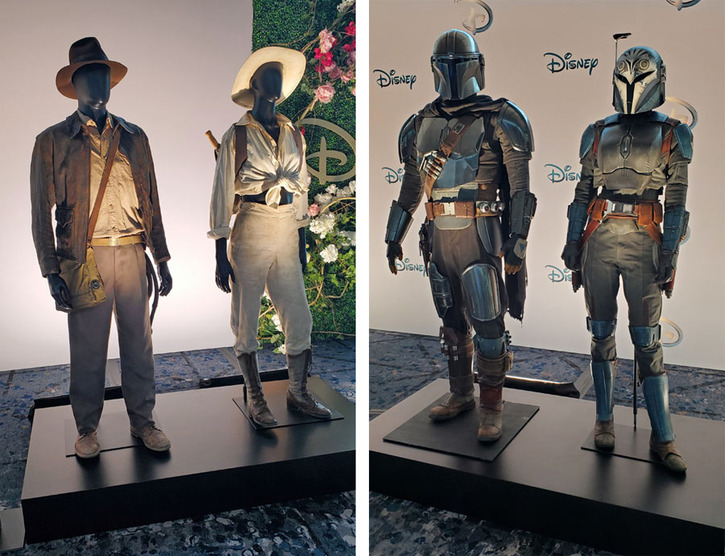 On display outside the reception hall were several screen-used costumes such as these from "Indiana Jones and the Dial of Destiny" and "The Mandalorean."
After the event, Disney hosted a reception where guests got to check out an experiential costume exhibit celebrating Disney's 100 years. Costumes and props were on display from Disney's various series and movie franchises including "Beauty and the Beast," "Cinderella," "The Handmaid's Tale," "Hocus Pocus," "Indiana Jones and the Dial of Destiny," "Iron Man," "Loki," "The Mandalorian," "Obi-Wan Kenobi," "Star Wars" and more. Sadly, "experiential" didn't mean what I thought it meant as I was discouraged from trying on Mando's armor or Darth Vader's helmet. Maybe next time I'll sneak in a little early. This is the Way.
Related Reading:
Indiana Jones Films Coming to Ultra HD Blu-ray Disc with 4K Remasters and Dolby Atmos Sound