TBS DOUBLES DOWN AS A TOP DESTINATION FOR COMEDY BY LICENSING THE HIGHLY RATED SERIES "MODERN FAMILY"

EXPANDS DAILY OFFERING OF "THE BIG BANG THEORY," CABLE TV's #1 ACQUIRED SERIES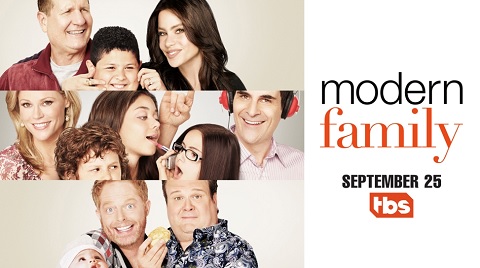 NEW YORK (September 12, 2023) – TBS has expanded its comedy line up by licensing the popular, award-winning series "Modern Family" which follows the diverse and complex Pritchett-Dunphy-Tucker clan as they navigate daily life. Beginning Monday, September 25, "Modern Family" will air on weekdays in the network's 12:30-3:30 p.m. ET/PT time slot. And, starting this week, to further bolster its position as the home of comedy, TBS also will air longer daily marathons of "The Big Bang Theory" — a series that currently ranks as the #1 acquired series in cable in 2023.

"Our audience continually seeks out popular comedies like "Friends," "The Big Bang Theory" and "Modern Family," so now that we have all three of these iconic series on TBS, we can build an even bigger, more engaged audience," said Julie Taylor, Chief of Content Strategy & Insights, US Networks Group, Warner Bros. Discovery. "We have the best in class content that drives an audience from daytime through primetime and we do that by leveraging our fans' affinity for comedies and by creating daily destinations."

View the promo here.

About Modern Family
The family at the center of "Modern Family" is headed by Jay Pritchett (Ed O'Neill), who is now married to his second wife, the young, gorgeous Gloria (Sofía Vergara), assumed by some to be his daughter. In their loving care is Gloria's daydreaming son, Manny (Rico Rodriguez). Jay's driven daughter, Claire (Julie Bowen), and her real estate agent husband, Phil Dunphy (Ty Burrell), want an open, healthy relationship with their three kids, which isn't always easy.

Their oldest daughter, Haley (Sarah Hyland), grows up a little too fast. Middle child, Alex (Ariel Winter), is a too-smart-for-her-own-good daughter, and the youngest, Luke (Nolan Gould), is a rambunctious son. Where Phil wants to be the "cool dad," Claire is determined to keep her kids from walking in the wayward footsteps of her younger days.

Jay's very serious son, Mitchell (Jesse Tyler Ferguson), and his gregarious husband, Cameron (Eric Stonestreet), become doting parents to Lily (Aubrey Anderson-Emmons), the sweet Vietnamese girl they adopt. Though life isn't always tidy, politically correct, or predictable, it's always loving, heartwarming, and hilarious for this blended, extended – and truly modern – family.

Throughout its impressive run, "Modern Family" was nominated for an astonishing 85 Emmy(R) Awards and won 22 including five for Outstanding Comedy Series. The series was also honored with a Golden Globe(R) Award, numerous Screen Actors Guild Awards(R) and was recognized by the AFI, Humanitas and Peabody organizations. "Modern Family" premiered in 2009 and aired 250 episodes spanning 11 seasons.

"Modern Family" was produced by 20th Television in association with Steven Levitan Productions and Picador Productions. Steven Levitan and Christopher Lloyd were co-creators/executive producers. Paul Corrigan, Brad Walsh, Danny Zuker, Abraham Higginbotham, Jeffrey Richman, Elaine Ko, Stephen Lloyd, Vali Chandrasekaran, Jack Burditt, Jon Pollack and Jeff Morton also served as executive producers on the final season. The series is distributed by Disney Entertainment.

About The Big Bang Theory
"The Big Bang Theory," created by Chuck Lorre and Bill Prady, premiered in September 2007 and ran for two hundred and seventy-nine episodes, the longest running multi-camera comedy series in U.S. TV history. The series received 55 Emmy(R) nominations and 10 wins, and seven Golden Globe(R) nominations.

Produced by Chuck Lorre Productions, Inc., in association with Warner Bros. Television, "The Big Bang Theory" was executive produced by Lorre, Prady, Steve Holland, Steven Molaro, Dave Goetsch, Eric Kaplan and Maria Ferrari. The series stars Johnny Galecki, Jim Parsons, Kaley Cuoco, Simon Helberg, Kunal Nayyar, Mayim Bialik and Melissa Rauch.

About TBS
TBS, a Warner Bros. Discovery brand, is a top-rated destination for television among young adults and known for escapist, good-time entertainment, featuring smart, imaginative characters with heart and comedic edge. From unscripted and scripted comedy series to game shows, and animated programming, TBS' Originals slate is comprised of some of the most popular shows on cable – "AEW: Dynamite," "AEW: All Access," "American Dad!," "Miracle Workers," "Wipeout," "Friday Night Vibes," and "The Cube" along with upcoming series, "I Survived Bear Grylls" and "Stupid Pet Tricks". TBS' lineup also includes comedy hits like "Young Sheldon" and "The Big Bang Theory," classic sitcom favorites such as "Friends," blockbuster movies, and live event coverage of Major League Baseball, the NCAA Division I Men's Basketball Championship and "ELEAGUE," Warner Bros. Discovery's eSports gaming competition. Website: www.tbs.com