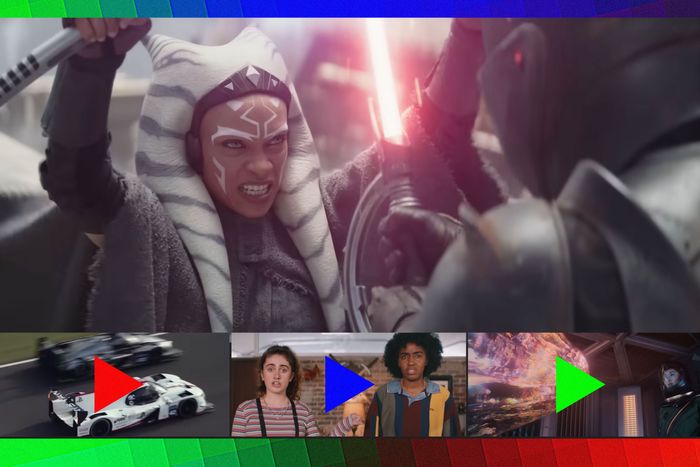 Clockwise from top: Ahsoka, Invasion, Bottoms, Gran Turismo.
Photo-Illustration: Vulture
The end of summer no longer feels far, far away, but as that subtle reference to Star Wars might've hinted, we've got some good TV shows and movies to stream as we get through the last of August. There's the highly anticipated Ahsoka, which sets up the future of the franchise. We've got a video-game movie, a teen-girl fight-club film, some delicious reality-TV mess, and two big titles coming to VOD. May the Force be with you as you hit play. —James Grebey
The fifth live-action Star Wars show to hit Disney's streaming service centers on onetime Padawan Ahsoka Tano, first played by Rosario Dawson on The Mandalorian; vets of that show Jon Favreau and Dave Filoni developed this eight-episode limited series. Will it generate more buzz than Baby Yoda at his peak or, um, The Book of Boba Fett? We shall see, young Jedis. —Jen Chaney
➽ What do you think Rosario would have to do to make Ahsoka place below the terrible '80s Ewoks cartoon on our ranking of every Star Wars show?
Based on a video game and also based on a true story? Well, now I've heard everything. Gran Turismo, from District 9 director Neill Blomkamp, is about Jann Mardenborough, a real-life teenager who got so good at the Gran Turismo racing games that he was able to hack it as an actual race-car driver. It seems like it uses every cliché you'd expect from a plucky underdog sports movie, but consider this: Car go fast. —J.G.
➽ Okay, but what can I get for being really good at Nintendo Sports?
This is a movie that demands to be seen with the largest group of people possible (a.k.a. in theaters). Director Emma Seligman (Shiva Baby) expertly crafts a loving and gay 2000s teen–inspired comedy that is just fucking hilarious. Rachel Sennott and Ayo Edebiri are kinetic as a pair of awkward teens looking to impress their dream girls (Kaia Gerber and Havana Rose Liu) by starting a fight club. —S.S.
And just like that … another season of this baffling show has come and gone. Dedicated Sex and the City fans are hanging on for dear life, but at least this season had its moments. Charlotte and Miranda running around wondering if their kids hooked up? Fun. Actually, just about everything Charlotte-related was kind of great this season. Now we'll just have to rewatch Sex and the City again until this one returns for season three. —S.S. 
➽ Carrie's decision to give her apartment to the jewelry girl over her best friend Miranda will haunt me for years.
Adam Sandler and Idina Menzel reunite, but You Are So Not Invited to My Bat Mitzvah looks more like a charming teen comedy than it does Uncut Gems, which is giving me a panic attack. —J.G.
The first season of the Apple TV+ alien-attack story was a slow burn, almost to a fault. But, now that the invading aliens have actually, you know, invaded, there's room for the series to fully showcase some of the sci-fi thrills it only sporadically offered the first time around. —J.G.
➽ Me and my friends would've killed the Invasion aliens with hammers, I can tell you that much.
The Queer Love season of Ultimatum was such a chaotic watch that it'll be interesting to see how the straights will compare. Per the show's rules, five couples will enter into this experiment as one partner is looking for marriage while the other isn't there yet. The couples spend a few weeks apart with a new partner and a few weeks back with their original partner. The wild concept delivered plenty of petty drama and interesting revelations in season one, so we're back for round two. —S.S.
Director Celine Song's Past Lives is an emotional, gorgeous glimpse into Nora's (Greta Lee) conflicting feelings on her past and present self through her relationships with her childhood best friend (Teo Yoo) and husband (John Magaro). It also helps that it's really one of the best films of the year so far. —S.S.
Sure, Past Lives is one of the best movies of the year, but can it compare to the best superhero movie ever made!? Don't answer that unless you're Warner Bros. Discovery CEO David Zaslav, but the Scarlet Speedster has zipped his way to Max as of today. —J.G.
Speaking of baffling shows, Riverdale is bowing out after seven bizarre, fun seasons. The mark it made on internet culture is admirable, from the epic highs and lows of high-school football, to the "I'm a weirdo" monologue, to the Antler King, and its handful of musical episodes. The streaming release of the finale will run a few minutes longer than the broadcast version, so it'll be interesting to see how the Archie-inspired series goes out. —S.S.
See how far Ahsoka Tano has come by going back to her first appearance, this 2008 animated movie that was basically just the first three episodes of the (much better) animated series of the same name. Little did anybody know that Anakin's previously unmentioned and seemingly doomed Padawan apprentice would become the most important new character in the whole franchise. (Except, maybe, for Dave Filoni. He probably knew.) —J.G.
Want more? Read our recommendations from the weekend of August 18.