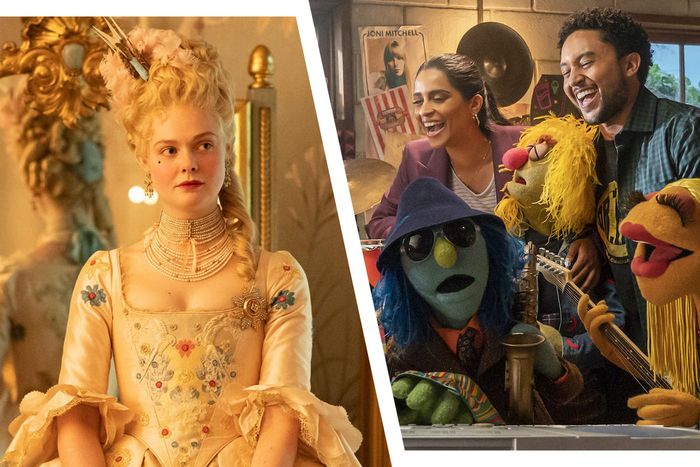 The Great (left) and The Muppets Mayhem.
Photo-Illustration: Vulture. Photos: Hulu; Disney
It's a rare breather week between summer blockbusters, but that doesn't mean we're lacking for new shows and movies to watch. There is a new Disney+ series about the greatest band of all time, Dr. Teeth and the Electric Mayhem (the Beatles found dead in a ditch); a documentary about an acting icon; and a show starring Jennifer Lopez that's called The Mother, which seems so Vulture-core I'm worried it's psyops. Here, what's good for the weekend of May 15. —James Grebey
There has been a rash of executive-centric films but none more enjoyably regional than this dramatic tale of the rise and fall of Waterloo, Ontario's Research in Motion, which, for a brief window in the aughts, dominated the smartphone market. Jay Baruchel and director Matt Johnson play its feuding co-founders, but the bald-capped Glenn Howerton steals the show as hockey-obsessed co-CEO Jim Balsillie. —Alison Willmore
➽ The Glenn Howerton Oscar campaign starts now. 
The premise is admittedly a little corny: Lilly Singh plays an assistant at a dying record label who sets out to help Muppet band Dr. Teeth and the Electric Mayhem deliver their first-ever album. But there are enough fun details — Janice's continued spaciness, cameos from Lil Nas X and Billy Corgan, Animal — to make this an entertaining watch with the kids. —Jen Chaney
➽ Dr. Teeth would've played both weekends at Coachella. Just sayin'. 
Hulu's not entirely accurate history of Catherine the Great promises once again to hew more seriously to its heroine's fundamental qualities and the chemistry of its two excellent leads (Nicholas Hoult and Elle Fanning) than to anything as boring as strict factualness. Thank Heaven for that. —Kathryn VanArendonk
The FX on Hulu partnership continues with this limited series about an FBI class, the members of which came from different professional backgrounds before devoting their lives to "the pursuit of truth and knowledge." How will artificial intelligence complicate their belief in the Bureau's mission? The show's Black Mirror–style pivot seems a little goofy, but this cast (including Brian Tyree Henry, Raúl Castillo, and Kate Mara) is worthwhile. —Roxana Hadadi
This documentary could easily have turned into an act of hero worship. Instead, director Davis Guggenheim sensitively contrasts the light speed at which Fox's early acting career operated with the challenges he faces now as someone with Parkinson's disease. The result is a full portrait of a man who deserves to be a focus of admiration but is just as vulnerable as the rest of us. —J.C.
You know what there aren't enough movies about? This crazy town we call Hollywood! And yet Charlie Day's directorial debut has an amusing spin on the well-trodden genre, as he plays a man who looks exactly like a troublesome method actor. The man, despite being a mute who just wandered out of a mental institution, becomes a big star. Call it the reverse Babylon — silent pictures are back! —J.G.
Look, there's probably something "wrong with our society" or whatever that we keep making movies — like BlackBerry or Tetris — valorizing the noble exploits of [checks notes] businessmen trying to close licensing deals, but by gosh, if they're not watchable celebrations of capitalism! The most watchable recent one of 'em all, Ben Affleck and Matt Damon's ode to the '80s, is now streaming on Prime Video following a fairly successful time in theaters. —J.G.
➽ Speaking of coming to streaming, support cinema's grandpa by checking out The Fabelmans on Showtime, because I know you haven't yet!! 
Fresh off Sasha Colby's win, RuPaul's Drag Race is going straight into All Stars. The eighth season brings together former Drag Race contestants for another chance at the crown. Returning queens include Heidi N Closet, Jaymes Mansfield, Kandy Muse, and LaLa Ri. Now, sashay away to Paramount+. —Savannah Salazar
The book-club girlies (composed of Diane Keaton, Jane Fonda, Candice Bergen, and Mary Steenburgen) are putting down the novels and are heading to Italy. As Fonda's Vivian prepares to get married, the group decides to go on an impromptu dream trip, and, of course, this wouldn't be a feature film without something going awry. It's a great pick if you're looking for something as light and fizzy as the Champagne these women are popping. —S.S.
J.Lo is Netflix's mother in, well, The Mother. In this film — which happens to be director Niki Caro's follow-up to 2020's live-action Mulan(?) — she plays an assassin-in-hiding who comes out of the shadows to protect her estranged daughter. I couldn't tell you if it's any good yet, but I can say that The Mother is definitely the kind of movie that will skyrocket to the top of Netflix's most-watched list. —S.S.
"Adult animation" shows are a dime a dozen, but Netflix's Mulligan has a fun premise: After invading aliens destroy pretty much all of humanity, the guy who single-handedly defeated them becomes the president. However, running a country is very different from kicking alien butt. (An incompetent president? Can you imagine?!) —J.G.
J.Lo may play the mother in Netflix's latest, but in Monster-in-Law, Jane Fonda was absolutely the mother to look out for. A time capsule of its time — J.Lo in a dress and jeans will never be seen again — this comedy is a roller-coaster tête-à-tête as Fonda's media personality Viola Fields sneakily tries to get her son's fiancée (Jennifer Lopez) out of the picture. —S.S.
The scene of a Meg eating a T. rex in the trailer for the sequel is actually the opening of the book that Meg is based on, so here's hoping that Meg 2: The Trench incorporates even more insane stuff from the novel that didn't make it into the first flick. We love a giant shark. —J.G.
>> Director Yorgos Lanthimos is back, baby! 
Oh, come on. Don't pretend you're above laughing at this. —J.G.
Disney superfans know that the trash cans at the parks are famously 30 feet apart because of Walt Disney, but do you know where that number comes from? The hint is hot dogs. —S.S.
Watching this video, you'll learn that Elizabeth Olsen loves food — so much so that she joins host Alvin Cailan and Christian Alquiza as they make her better burgers than the ones at In-N-Out (not that hard). —S.S.
The 2007-writers-strike effect on Twilight, The Good Doctor, and Beyoncé's Renaissance tour if you want to keep up.