Grammy award-winning singer Shakira is not just an international superstar — she's also a proud mom of two.
The Colombian and Lebanese entertainer has two sons, Milan and Sasha, who she shares with her ex-partner Gerard Piqué, a former professional soccer player who retired in November, 2022.
While Shakira's kids are the highlight of her life, the singer does not shy away from publicly discussing how difficult motherhood can be.
"It's one of the most difficult things I've done in my life," the mom of two told People in 2015, adding that "nothing has made me so self-conscious as being a mom."
She went on to tell the publication at the time that: "Every day I wonder if I'm doing the right thing. I just want to improve in the job, the hardest job on earth."
In June, 2022, Shakira and Piqué announced the end of their 11-year relationship.
"We regret to confirm that we are separating," the couple said in a statement provided to TODAY.com at the time. "For the well-being of our children, who are our highest priority, we request respect for privacy. Thank you for your understanding."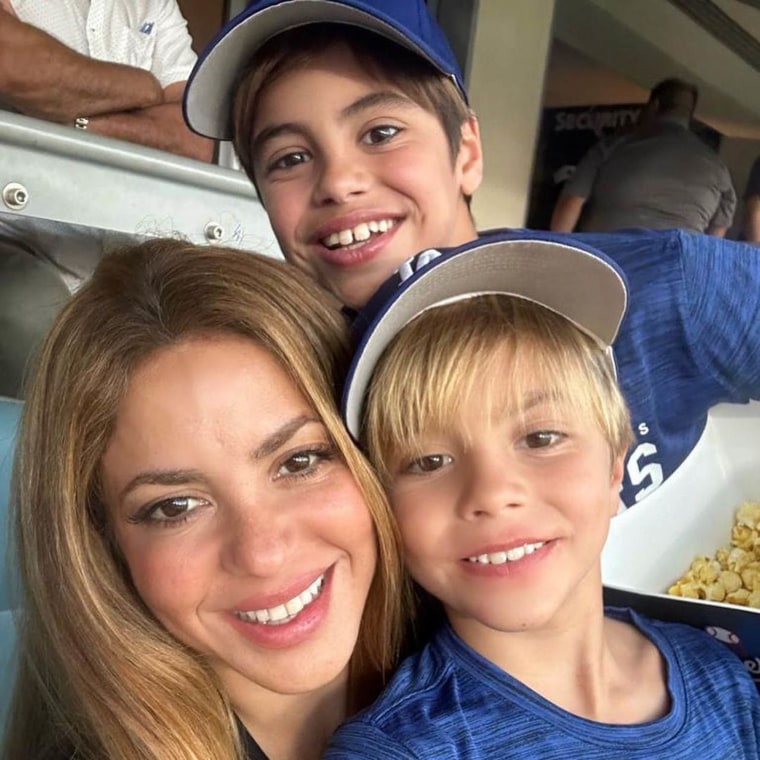 In November, 2022, the ex-couple reached a custody agreement, and their two sons moved from Barcelona, Spain to Miami, Florida to live with their mom in 2023, People reports.
"I settled in Barcelona to give my children stability, the same stability we are now looking for in another corner of the world next to family, friends and the sea," Shakira wrote in Spanish on Instagram at the time. "Today we begin a new chapter in search of happiness."
In an interview with Elle in September, 2022, the "Hips Don't Lie" singer said she has "tried to conceal the situation in front of my kids."
"I try to do it and to protect them, because that's my number one mission in life," she continued. "But then they hear things in school from their friends or they come across some disagreeable, unpleasant news online, and it just affects them, you know?"
During the 2023 MTV Video Music Awards, Shakira will receive with the Video Vanguard Award, making history as the first South American artist to receive the honor.
Ahead of her historic achievement, here is more on the two people the singer's life really revolves around — her sons.
Learn more about your favorite famous singers' kids!
Milan Piqué Mebarak, 9
Shakira's first son, Milan Piqué Mebarak, was born at 9:36 p.m. on Jan. 22, 2013 in Barcelona, Spain, weighing in at 6 pounds and 6 ounces.
"Milan means dear, loving and gracious in Slavic; in Ancient Roman, eager and laborious, and in Sanskrit, unification," Shakira said in a statement posted on her website at the time.
"Just like his father, baby Milan became a member of FC Barcelona at birth," the statement read. At the time, Piqué was a defender for Spanish La Liga runner-up FC Barcelona. Mebarak is Shakira's last name.
Shakira told Elle in 2022 that she took her son Milan "with me everywhere from the time he was 2 months old," adding that she can "even remember breastfeeding him constantly on the set of 'The Voice.'"
Earlier that year, Shakira signed on to be a judge on the hit television show. (Disclosure: "The Voice" airs on NBC, the parent company of TODAY.com.)
Following in his famous mom's footsteps, Milan loves music and is a talented pianist. In December, 2021, Shakira shared a video of her son playing the piano.
That same year, Shakira shared a photo of her son sitting at the controls inside her home studio.
"I got a new producer, he's very strict!" she joked in the caption.
Milan (and his younger brother) made a cameo appearance in Shakira's music video for her song "Acróstico."
"This year, Milan has written songs that have brought me to tears of emotion and Sasha has spent hours at the piano, finding his voice," Shakira wrote in Spanish on Instagram. "Milan and Sasha, it's so nice to see how you spread your wings and follow your dreams! There is nothing that makes me more fulfilled than being your mother."
Sasha Piqué Mebarak, 7
Shakira's second child, Sasha Piqué Mebarak, was born at 9:54 pm on January 29, 2015 in Barcelona, Spain.
"The name Sasha is of Greek and Russian descent and means 'defender of mankind' and 'warrior,'" the couple announced on Shakria's website at the time. "The hospital confirmed that both mother and child are in excellent health."
Shakira and Piqué turned their second baby shower into a worldwide event to raise money for UNICEF, setting up a web page to provide a way for well-wishers to purchase "inspired gifts" for needy children.
In a tweet Shakira shared at the time, she gave fans a glimpse of Sasha's adorable newborn feet, writing: "I have Daddy's feet, it looks like I've been playing football my whole life."
Shakira has been vocal about his many athletic talents. In 2017, the singer shared a video to Instagram of her youngest son playing basketball and tennis.
"My little athlete!" Shakira captioned the video in both Spanish and English.
At just 6 years old, Sasha took his talents to the mat, practicing martial arts and winning an award.
"When your six year old accomplishes something and you are more into it than getting any Grammy," Shakira captioned a video of her son receiving his awards and celebrating. "Btw I'm the deranged woman screaming in the back."
In 2021, Shakira shared a photo on Instagram of Sasha taking his first surfing lesson.
"Sasha with his friends and coaches Kai and Hans after his first surfing lesson!" the proud mom captioned the post.
Later that same year, Shakira shared more photos of Sasha and his big brother at the Wavegarden surf park in Sao Paulo, Brazil.
Like his mom and his big brother, Sasha is also artistic.
In a 2023 interview with Hola, Shakira revealed that Sasha had created the artwork for her single "Monotonia."
"I didn't like what the designers at Sony had created, and I asked Sasha what he thought about it," Shakira told the publication at the time. "He said, 'No mami, Iet me do it,' and he started making it on his iPad. He sent it to me and I sent it to people at Sony. I think kids have a special sensibility and I listen to them."
While Shakira has become an international superstar, she told Elle in 2022 that sometimes all she wants is just more time with her two boys.
"Sometimes I dreaded my work so much in the past because I just wanted to be there for my kids," she said at the time. "I mean, I just wanted to cuddle with my kids in bed a little bit longer. And then I had to, like, get up and shoot a video and fulfill my obligations.
"But now I'm so thankful for my work," she added, "(and) the possibility that it gives us to put ourselves back together and to realize who we are and why we're here on this planet — what's our purpose, our mission."