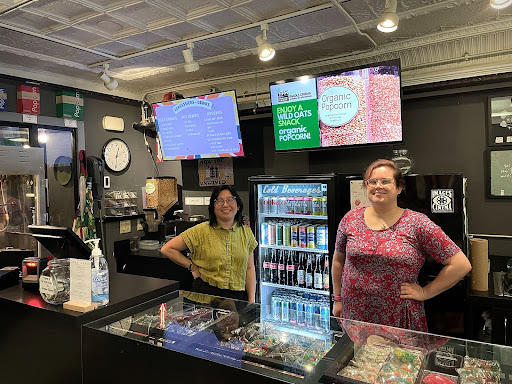 Last week, Images Cinema Executive Director Dan Hudson and Managing Director Janet Curran were not at the theater's box office, where they can often be found before a screening. Instead, they were across the Canadian border, watching a slate of new movies hitting screens this fall.
Toronto International Film Festival (TIFF), one of the world's most prestigious and highly attended film festivals, regularly draws in thousands of moviegoers for screenings of over 200 films. It's a chance for critics to review upcoming movies and for distributors to acquire independent titles that display promise at their first showing. The festival culminates with the People's Choice Award, an audience-voted prize whose winners have become strong contenders for Best Picture at the Academy Awards in the winter (past winners include 2020's Nomadland and 2022's The Fabelmans).
Fresh off their trip from TIFF, Hudson and Curran spoke to the Record about what films they saw, what they noticed at the festival, and the titles they're excited to bring to their single-screen theater in Williamstown this fall.
Hudson said the reception at TIFF — as well as conversations he's had with others in the industry — affirmed what he's found to be true over the last few years: Moviegoers are looking for fun theatrical experiences. 
"People generally want to have a good time at the movies right now," he said. "The world is pretty heavy, and people don't necessarily want to spend two and a half hours at the theater feeling bad." The success of Barbie, Hudson added, is a prime example.
This theme was apparent at the screening for The Holdovers, a "crowd-pleaser" comedy that follows a New England prep school instructor tasked with babysitting students who have nowhere to go during the holiday season. Hudson said he expects the movie will make a splash when it arrives on American cinema screens in October. The film, which he plans to bring to Images this fall, was one of his favorites from the festival and was the People's Choice Award runner-up.
Hudson also called attention to Japanese animated film The Boy and the Heron from Hayao Miyazaki — the acclaimed director of titles including Spirited Away and Howl's Moving Castle — as another for moviegoers to keep their eye on. "This one was really special," he said of the film, which was another People's Choice Award runner-up. "The reviews coming out of the film screening were really positive, as were the audience reactions."
These are the kinds of responses that Hudson said he and Curran were looking for at the festival when deciding what to bring home. "Feeling the vibe and the energy of how a room full of people respond helps us make those decisions," he said.
On Curran's list of favorites was Monster, a Japanese drama about complex dynamics among a mother, her son, and his teacher. She also enjoyed Robot James, an animated, dialogue-free look at a friendship between a robot and a dog with what she referred to as an "emotional punch" of an ending.
Perhaps most notably, Curran highlighted American Fiction, which took home the People's Choice Award at TIFF. "It's a really funny, smart look at contemporary publishing practices and the way that race is flattened in a lot of media," Curran said. "I think it's going to be a big film."
The festival, which took place amid ongoing strikes by the American actors' union Screen Actors Guild and American Federation of Television and Radio Artists, was less star-studded than it has been in past years because union rules prohibit many Hollywood A-listers from promoting their films when on strike. While this change made for less buzzy red carpet moments, Hudson said, it allowed for other craftspeople — producers, production designers, and directors, for instance — to step into the spotlight.
He added that this adjustment also made it easier for movies from lesser-known production companies to break through. "Films that would maybe be more under the radar got to shine because they got to stand out on their own merits," Hudson said.
The strikes have also and will continue to affect what will be shown at Images this fall. Films Poor Things and Problemista, which were both slated for September showings at Images, have been pushed back as a result. Hudson again noted that there were certain upsides to the effects of the strike: In this case, it's the opportunity for Images to play smaller films that have not delayed their release dates due to the strikes, which he said local audiences have also enjoyed.
"It may not be the best thing week-to-week or month-to-month in terms of total attendance or total box office as the strikes keep going on," Hudson said. "But the good news is that there are so many great movies out there, so there's always something to show."
Hudson said that the theater is planning a fall lineup that balances the fun, energetic movies that audiences have been craving in recent years — for example, the raunchy comedy Bottoms opens at Images on Oct. 6 — to complement films with a more serious tone.
"We're here to serve our audience," he said. "There's going to be good times at Images in addition to showcasing challenging work."