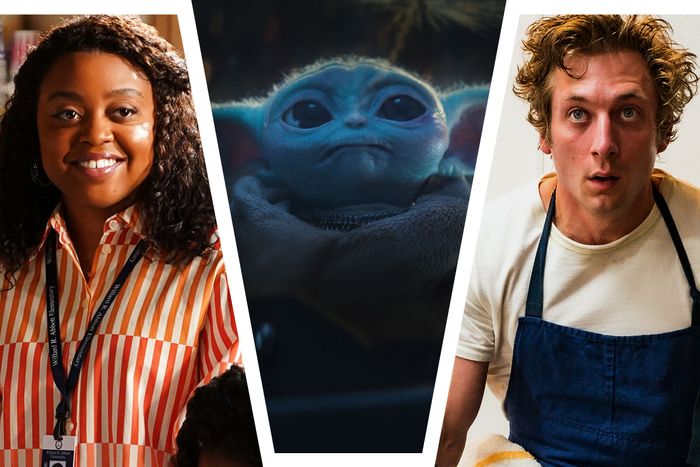 Abbott Elementary, Grogu, and The Bear all live in harmony under the Mouse House. How long will that last?
Photo-Illustration: Vulture. Photos: ABC; Disney; FX
About three months after his surprise return, once and current Disney CEO Bob Iger last week finally sketched out a rough outline of how he plans to shake up the company's streaming strategy. "It's time for another transformation, one that rationalizes our enviable streaming business and puts it on a path to sustained growth and profitability," he told analysts during a quarterly earnings call. As expected, Iger officially dismantled the company's Media and Entertainment Distribution group (established by predecessor Bob Chapek to separate the execs who make shows from those who market and monetize them), and he put TV and film chiefs Dana Walden and Alan Bergman in charge of a newly formed Disney Entertainment unit. He also delivered the bad news many in Hollywood feared was coming: This "transformation" will involve more than $5 billion in budget cuts and the elimination of roughly 7000 jobs, both through layoffs and attrition.
Iger's decision to follow the lead of rivals such as Warner Bros. Discovery and Netflix by prioritizing profitability over expanding subscriber rolls will almost surely lead to big changes at Disney's streaming platforms, as well as the various units that supply content to them. But beyond that, exactly what those changes will be, when they will start rolling out, and how they will impact consumers remains up in the air. Here's a look at some of the biggest unresolved mysteries as Disney's Second Iger Era begins.
Until a few weeks ago, most industry insiders I spoke with assumed the answer to this question was almost certainly "no." Hulu has been a key part of Disney's "bundle" strategy in the U.S., allowing it to serve customers who want more adult fare, as well as folks who rely on its Live TV option. The consensus had long been that Disney would most likely — as part of a long-ago negotiated agreement — buy out silent Hulu partner Comcast and take complete control of the streamer. Comcast execs all but predicted this was how things would play out, even as they made clear their desire to take control of Hulu.
But once Bob Iger returned to Disney and started talking about how the company really needed to start making money on its streaming business (a novel idea, that), the notion that perhaps Disney would actually end up unloading Hulu started to gain traction in certain quarters. And then last week, talking to CNBC's David Faber, the CEO confirmed that, yeah, actually, selling is an option. "Everything's on the table right now," Iger said. "I'm not going to speculate about whether we're a buyer or seller of it, but … we're going to look at it very objectively and expansively." Cue a million tweets and stories about Hulu possibly being up for grabs.
Given how weird the last year has been in streaming, and how much Disney really does need to start making money, it would be dumb to think Iger is not being completely serious when he suggests a sale of Hulu is in the realm of possibility. For one thing, the company's streaming strategy outside of the U.S. doesn't include the platform at all: Hulu and FX Originals, along with Disney's more adult-centric library shows and movies, stream on Disney+ elsewhere, usually under the Star brand. That's mainly because Hulu has never been an international product, so when Disney+ launched, it simply was more efficient to fold Hulu content into the new platform.
And yet, while Iger's comments last week make a Hulu sale a real possibility, I don't think it's a sure thing– or even the most likely option.  Under that aforementioned agreement with Comcast, Disney needs to either sell Hulu, buy out Comcast's stake in the company, or work out some other new deal by the end of next year. Whatever option Iger decides on is going to require a lot of negotiation. As one industry insider noted to me recently, even if Iger wants to keep Hulu, it doesn't make much sense for him to signal that fact right now and give up any leverage he might have in working out a deal with Comcast. It's also quite possible that Iger — who had thought figuring this out was going to be a problem for his successor/predecessor Bob Chapek — truly doesn't know yet what his best course of action is. In that case, indicating uncertainty is just Iger being honest and preparing investors for any possibility. If Iger himself isn't 100 percent clear what happens to Hulu next year, it would be foolish to try to predict what his call will be.
On this question, I feel a bit more comfortable offering an opinion: No, Disney shouldn't get rid of Hulu. I get the argument against keeping it: The streamer has never gotten the sort of scale or buzz as Netflix, and its brand as a maker of original content is relatively amorphous (you don't know what defines a Hulu show the way you do with an HBO series). Plus, even if Disney sold Hulu, it would still retain so much of what makes Hulu, well … Hulu: the deep library of TV and movie titles made by brands such as 20th, FX, Freeform, ABC, and Onyx Collective, as well as the exec firepower behind them. But Hulu is also a pioneering streaming brand, an early mover in the space which, for many consumers, is their first thought when they think about where to go to stream traditional linear TV, particularly next-day episodes of shows that debut on ABC or FX (and, until recently, NBC). It also has a small but not insignificant base of subscribers who use it as a virtual cable system (Hulu with Live TV).
Disney has pushed and prodded many Hulu subscribers to upgrade to the Disney Bundle, but a not insignificant number of Hulu customers remain Hulu-only: In other words, they don't want Disney+ and its galaxy of superhero movies and family shows. That number is surely shrinking, particularly as Disney has made the price of stand-alone Hulu not much less expensive than bundling Hulu and Disney+. But Warner Bros. Discovery recently backtracked on plans to sunset the Discovery+ platform and force anyone who had that service to upgrade to HBO Max because it feared doing so would result in a net loss of customers and revenue. Something similar would happen if Disney folded Hulu content into Disney+ (and raised the price accordingly).
I also think letting consumers choose to only subscribe to Hulu will help mitigate any backlash that might come from combining Hulu's more adult content with Disney+. We live in the age of the Forever Culture War, and Disney is a favorite target of Republicans like Florida governor Ron DeSantis, who is always on the lookout for new ways to accuse Big Media of subverting family values. It's not hard to imagine such folks getting all sorts of mad if suddenly the only way to stream the "family" fare of Disney+ meant also shelling out for What We Do in the Shadows or Pam and Tommy. It doesn't matter that Disney Channel content has lived right next door to FX and MTV on cable for decades, or that parental controls would make it easy to keep kiddos safe from the "horror" of a show about lovable(-ish) vampires. Such folks would likely argue that Disney sold Disney+ as a safe place for family entertainment. I personally think such a charge is ridiculous: Nothing on Hulu is as bad as the garbage kids run across on the open internet everyday, and Disney+ has much stronger parental controls built in. But we live in the dumbest of times, so …
If you're someone who gets paid to make TV programming for Disney, and that content doesn't revolve around superheroes or other well-established franchises — in other words, if your speciality is making general entertainment content — Iger's comments last week likely gave you some heartburn. "In order for us to be more profitable as a company, we have to reduce our expenses," he told CNBC. "In order to do that you have to make some choices. … There are seven or eight platforms in the streaming business alone that are in general entertainment. That's a tough business to be in competitively — and it's not our strongest suit." Iger didn't suggest he was ready to abandon so-called "general" entertainment; he specifically called out projects such as FX's The Bear and The Old Man as successes.
But he also strongly hinted the company would be adjusting the percentage of its programming budget that goes to such fare. "There's a way to balance that," he said, referring to Disney's overall content portfolio. "We're gonna lean even more into Disney and Marvel and Pixar and Star Wars and Avatar. We've had higher returns on those businesses over the years anyway, so that makes a lot of sense. Augmenting that with some form of more curated general entertainment is what we would likely do. … We have to look really hard at how much we've made and what's really worked."
To be sure, Iger also talked about making less content, period — even the superhero stuff (something Marvel's Kevin Feige seemed to nod to this week in an interview with EW). But Iger's suggestion that non-franchise TV content isn't Disney's "strongest suit" hints at the notion that he thinks the company needs to start dialing back the number of original titles being churned out by brands such as Hulu, FX, Onyx Collective, Freeform, Nat Geo, and ABC Entertainment. This would fit with what Iger did years ago on the film side, when he reduced Disney's non-blockbuster theatrical output to just a trickle of titles every year. I doubt he has anything that radical in mind for TV, since so-called "general entertainment" shows not tied to blockbuster IP still performs very well, including for Disney (the aforementioned The Bear, ABC's Abbott Elementary, and Hulu's Only Murders in the Building have all had tremendous ratings and pop-culture success). Disney is also able to monetize TV content far more effectively and easily than its movies, where the company is at the mercy of theater owners and changing consumer habits.
Still, like so many other entertainment companies, most of Disney's TV brands — ABC and Freeform are the notable exceptions — have been in expansion mode over the past five years. Even FX's John Landgraf, who was the original Peak TV skeptic, has had to adjust to the times by (relatively modestly) expanding FX's slate. And at the same time FX was making more potential Emmy winners, Hulu dramatically upped its output, Nat Geo got moved into scripted programming with its upscale Genius miniseries brand, and Onyx Collective was launched to amplify and expand projects from creators of color. Iger said nothing to suggest he wants to reduce the number of Disney TV divisions — though these days, nothing should be ruled out — but it seems inevitable that at the very least, all those brands will soon be making fewer titles every year.
What's more, as part of the already-announced layoffs about to hit the company, it's possible there could be fewer layers of creative execs as Walden and Iger figure out what they want Disney's TV mix to look like. Do there need to be separate teams making Emmy-bait content for the Hulu Originals and FX brands, even if the individual brands themselves continue? At Warner Bros. Discovery, the fact that several early HBO Max originals felt like they could've easily been HBO Originals was a great thing for subscribers who were getting Great Content, but in fact, it was probably mission creep and a blurring of the lines between brands. It's no accident HBO Max's development team has now been folded into HBO, and HBO Max originals going forward are now expected to focus mostly on IP-connected ideas. Does Iger have a similar contraction in mind when he talks about more "aggressive curation" of general entertainment content? The next few months should provide clarity, but until it all shakes out, the only certainty inside Disney TV will be uncertainty.
So this one's a trick question: Disney never got out of the business of selling its movies and shows to other companies, as anyone who's watched The Golden Girls on Hallmark Channel or streamed The Mary Tyler Moore Show and The Bob Newhart Show on Prime Video can attest. But as others have reported, and sources confirm, company execs have been dropping hints that Disney isn't going to be as insistent on keeping all of its best properties on its own streaming services. I don't think the most recent Star Wars movies are headed to Netflix anytime soon, but it doesn't seem totally crazy that the company could experiment with, say, licensing the original trilogy to a free, ad-supported linear platform such as Pluto or Tubi. Is there anyone who's going to cancel Disney+ because Return of the Jedi can be viewed, with lots of commercials, at random times of the day on a FAST service? What's more, there are so many 20th Century Fox movies and TV shows that don't even have a home on Hulu or Disney+ right now. If Disney is looking for money — and it very much is — it seems obvious they'd want to go mining its library for revenue.
Of course, the other possibility here is that rather than go for a quick buck now and sell to outside ad-supported platforms, Disney could just launch its own FAST service, as Warner Bros. Discovery is exploring. I don't think it would make much sense to put anything too obviously Disney on such a platform as it might cheapen the brand. But a service which leaned heavily on the 20th titles, as well as content from ABC (including ABC News), could be a winner. Plus, if Disney does end up selling Hulu, it's going to need to find a way to window and monetize content outside of Disney+. A Disney-owned FAST service could be just the ticket.